Ktwo has launched a new Mk5 range of Bio and Evo muck spreaders to increase volumes and ease emptying to maximise outputs.
The Ktwo Bio range of rear discharge muck spreaders with twin horizontal beaters have been designed for situations where accurate applications are important and are the perfect choice when spreading higher value products.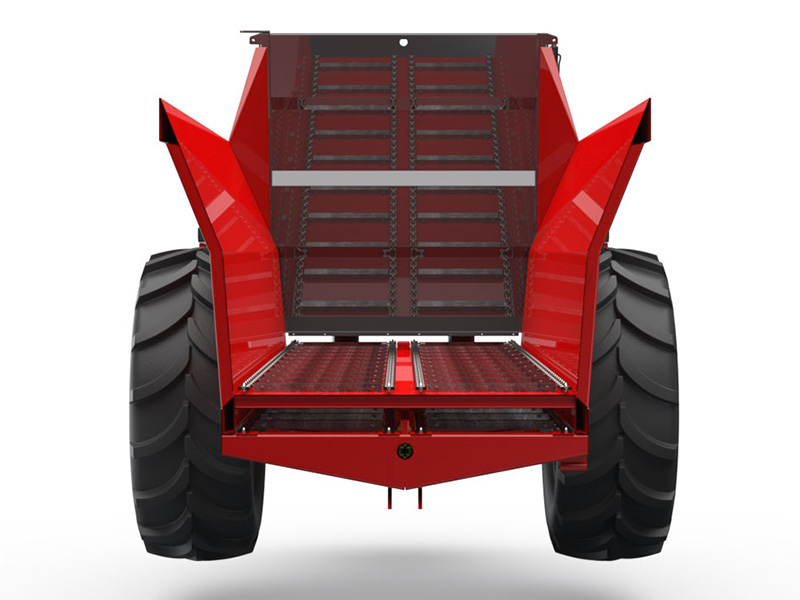 The Ktwo Evo range of rear discharge muck spreaders are fitted with twin vertical beaters, designed to cope with the most demanding conditions, at the same time providing extra accuracy and the highest outputs available.
Mk5 versions of both the Ktwo Bio and Ktwo Evo now have a flared body which gives an increased volume capacity. The taper rises from from the floor, acting as a funnel to help move materials down to the chains, facilitating easier emptying with less bridging. Both ranges now include a timed front roller with integral cleaning scrapers to ensure a consistent flow of material.
Not only does the new design increase volume and ease emptying, but the Mk5's also come with a host of smaller improvements resulting from customer feedback, including hardened spinner paddles. The new Eno range also has hardox rotor bases with sweeper bars.
The versatile and popular Ktwo Duo Mk6 range of rear discharge muck spreaders with twin vertical beaters already features the improvements to the body design which have been well received by farmers and contractors who have noted improved outputs.
TWIN FLOOR CHAINS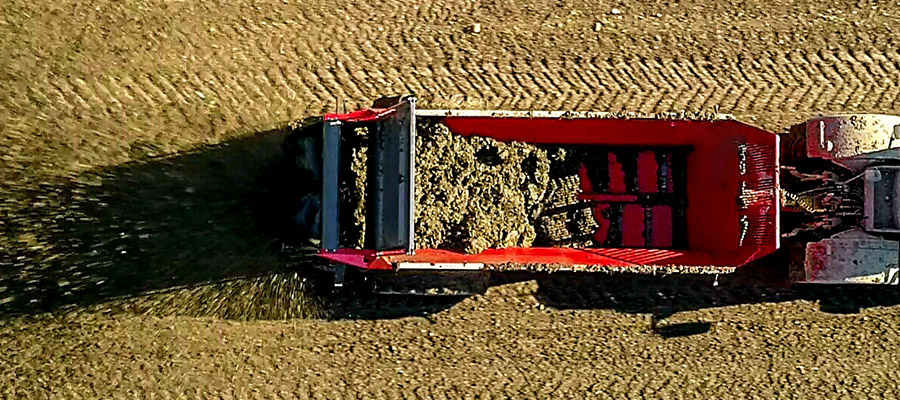 Ktwo muck spreaders are fitted with twin floor chains to ensure increased longevity, exceptional reliability, and a better spread of product, together with many additional benefits over a single chain design.
The floor chains in muck spreaders convey the material towards the rotors and require a constant and even feed to ensure all the load is spread accurately. All leading manufacturers now use heavy-duty, mining conveyor chain systems which are far superior to the early lightweight, flat link agricultural chain systems of the past.
Traditionally, the market saw larger "trailer type" 2m wide muck spreaders designed using single floor chain systems, but when a large amount of material was tipped into them it did not support the floor well and it would bow and eventually stove in, impinging the conveyor system. The twin floor chain system naturally gives a more robust floor slat, giving added support to the centre of the spreader floor.
Our muck spreaders have a flared body throughout which gives an increased volume capacity but also allows a stronger floor design. By starting to taper from the floor, the innovative design acts as a funnel to help move materials down to the chains increasing volume and allowing for easier emptying with less bridging. Even with the central gap between the two chain systems, the nature of the manure itself ensures complete emptying of the spreader.
Ashley Knibb, Ktwo Senior Design Engineer, explains: "A single chain is a simple system that allows for easier slat bending and requires a bigger and more clumsy chain to achieve the required pulling capacity. That system suffers from inherently more chain wear on the gearbox drive side."
'Spreading the load across a twin system with four chains and two runs of slats means that the slats are not subjected to such a heavy load and a smaller, more compact chain can be used. The floor is supported better as well.
With the exception of the Ktwo Bio – which has more slats to give a very accurate rotor feed – the company's models have staggered chains to help feed the rotors and ensure an even output and accurate coverage of the looser, lighter product. This is especially noticeable when spreading high-value materials such as lime, with the use of the slurry door to meter the load.
Another consideration is the difference between the use of a bearing or composite bush. Ktwo has always fitted high-quality ball flange bearings which are self-aligning, allowing accurate individual chain tension and high-pressure bearings which are much more resilient to wearing out.
Robbie Polson, Ktwo Managing Director, says ''We have had great feedback from customers moving from a single slat spreader to our twin floor chain spreaders. Not only does it help spread the load better it allows for easy maintenance.''
A single slat system has a no-tool-change design. These are a loose fit and then wear and become covered in product and will eventually corrode solid. However, customers have commented on the ease of maintenance of Ktwo's four chain design; they can get their tools in and around it and it is simple to remove bolts and slats no matter how worn and embedded they get.
For the low-down on the improvements available with Ktwo's new muck spreaders, contact your T H WHITE rep. You can also request a demo at www.thwhiteagriculture.co.uk/get-in-touch