Honda UK has launched its new flagship ATV, the exciting new 2020 TRX520 Foreman.
Following a research visit to the UK two years ago, the R&D team from Honda in Ohio listened carefully to what our customers wanted and went away to make it happen. The result is the excellent new TRX520FA6 Foreman.
The earlier version of this ATV first appeared in 2015 and this new model retains many of the same excellent features including independent suspension, hydraulic disc brakes, high/low range, power steering, difflock, 2/4 wheel drive, superb rider comfort and automatic transmission with optional electric shift (ESP) – using no belts – with the ability to tow 600kg
So what's new about the 2020 model? Well, firstly engine capacity has been increased from 475cc to 518cc, for more power, torque and cleaner emissions. The luggage racks are better designed with new features and a 1.9 litre storage container with lid is now mounted within the front rack. There are improved brush guards and an all new front bumper. Added to that, the lighting has been improved.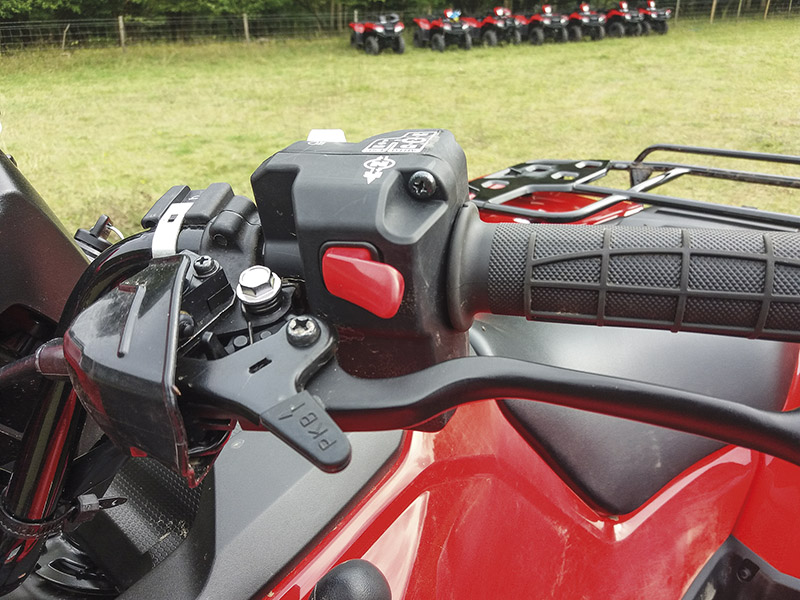 Most significant of all though is the new reverse shift operation. On this model and 2020 TRX420 automatics, reverse is now engaged with a simple, finger operated button; the response is instant, it can be selected at speeds of up to 3kph and it's so easy to use – especially on a cold morning with gloves on!
Another upgrade to the transmission mapping is the ability to override, shifting manually in auto without selecting ESP. The transmission drops back to auto after a few minutes.
We have ridden the new 520 and found it more responsive than the 2019 model with plenty of torque for towing. The all-important engine braking is really impressive too for safer downhill riding and  we liked the new more purposeful look resulting from the subtle front bumper change.
If you are considering upgrading your ATV this year, please do contact one of us to arrange a test ride before you decide, we hope you'll be as impressed as we are!
Currently available in green or red livery, list price of the TRX520FA6 Foreman is £8,600 plus VAT with two-year warranty, FREE GPS tracker and EASI training package. All-in-all a fantastic package.
For more information please contact your nearest T H WHITE Agricultural branch or representative.