ADVANCED TECHNOLOGY OAT PROCESSING FACILITY – JOINT VENTURE APPROVED AND CONSTRUCTION UNDERWAY…
Three top names in the grain industry have combined in a strategic partnership to create Navara Oat Milling Limited which will develop Europe's largest and most efficient oat processing facility in Northamptonshire.
Market leaders Camgrain, Frontier Agriculture and Anglia Maltings Holdings have combined in an exciting new initiative, forming a joint venture which brings together different yet complementary areas of expertise. Each participating enterprise also benefits from reputable longstanding relationships in their respective supply chains and market activities.
T H WHITE Projects has been appointed as the main contractor. Together with food factory associates FFA, T H WHITE is responsible for the design and construction of the technically advanced oat processing plant, which will be built on land alongside the Camgrain APC in a prime arable region between Corby and Kettering, Northamptonshire.
With full planning permission already granted, the green light to proceed has enabled significant ground preparation to commence on site ready for construction of a large processing building and associated services, followed by the main fit-out.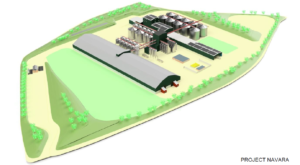 As Principal Designer and Principal Contractor, T H WHITE Projects is working with the client to select a series of accredited sub-contractors and suppliers.  On-time delivery of the project will be a primary focus for the team as it addresses the complex and challenging programme of works across the civil, mechanical and electrical components.
The site, which benefits from excellent transport links just off the busy A14 corridor, is discreetly located, hidden by the topography and vegetation which will be further enhanced by the additional planting of 6,500 new trees and shrubs.
The new hi-tech facility is scheduled for completion, commissioning and hand over to Navara Oat Milling Limited by T H WHITE Projects during 2023. Once fully operational it will have the capacity to serve the current and growing demand for oat ingredients associated with healthy products in the food and drink sectors.
T H WHITE Projects specialises in cereal processing & storage solutions of all sizes, from small to large commercial/industrial bulk facilities, taking each project from conception to completion. If you have a scheme you would like to talk about, please do contact us on 01380 723040 or email projects@thwhite.co.uk