We all know that spiders are capable of some amazing things, but no spider has ever done anything like this before!
Of course, we are not talking about the eight-legged variety, but rather the remarkable Spider remote-controlled slope mowers, now exclusively imported to the UK by T H WHITE Machinery Imports. In order to showcase the capabilities of Spider mowers, the Czech based manufacturer Dvorak decided to replicate Leonardo da Vinci's famous Mona Lisa portrait on a giant scale, mown on a hillside at Slemno in the Czech Republic.
The portrait, on a steep grass canvas measuring 210 metres x 250 metres with a gradient of no less than 45 degrees, was created over a period of three days: two days of detailed surveying and one day mowing, using the company's Spider ILD01 and ILD02 mowers. The whole process was filmed by the creative motion picture and digital agency, Mustard, based in Prague.
A scale drawing of the Mona Lisa was used to transfer reference points to the hillside using laser surveying technology and then the skilled Spider operators – including the company's Managing Director, Lubomir Dvorak – mowed the 50,000 square metre image taking directions from the video producer, who could view the whole scene via a drone-mounted camera.
Pavlina Novakova, Spider's International Marketing Manager, explained how the project was developed, "We wanted to make a video to raise the profile of our product range and our company on a global stage. The germ of an idea was put forward at one of our regular marketing meetings and was gradually developed over the following six months. We looked for an iconic image that would be recognized around the globe and decided on Leonardo da Vinci's most famous work. Not only was da Vinci a great artist, but he was also an exceptional engineer. That connection dovetailed perfectly with the innovative technology in our Spider mowers.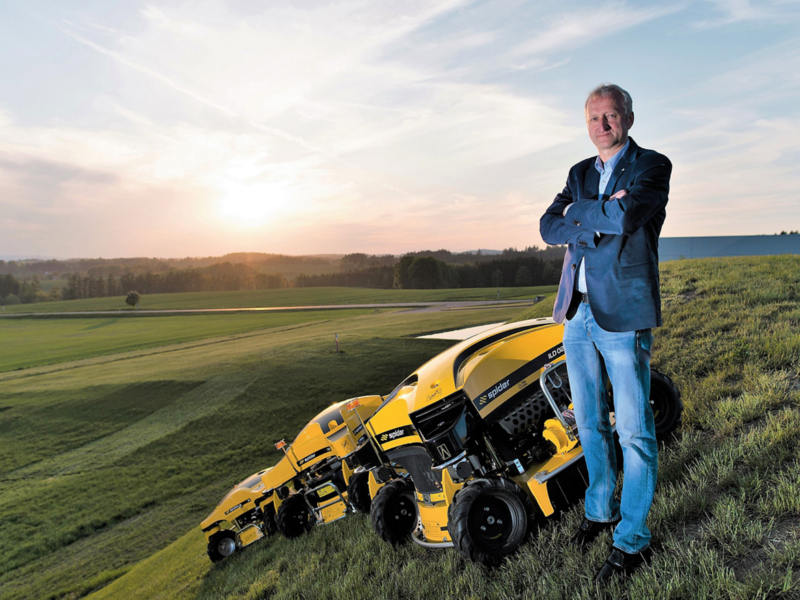 "We realised that we would need professional help, so we contacted Cream, a creative communications agency, also based in Prague who, along with Mustard, took the project forward.
"First, we had to find a suitable location, obtain permission from the landowner and then wait for perfect weather conditions. We did consider doing it close to a motorway, but this would have removed the element of surprise for the campaign, as we were convinced many people would take photographs of the completed image and post it on social media before the official launch.
"We are delighted with the finished video and are hoping it will go viral," Pavlina added. "So many people were involved in the production and it was a great experience for all of us at Spider to be part of it."
Spectacular as it is, 'Mow-na Lisa' illustrates only some of the applications for Spider mowers which are ideal for golf courses, local authority open spaces, parks, water and river management; roads, railway embankments and highways, waste management sites, airports and military installations, national heritage sites and solar farms. The new Spider Mini now also brings the slope mowing technology to larger gardens and small estates.
The Mow-na Lisa film is certain to leave you wanting to know more, so for the full story you can contact our Machinery Imports team on 01264 811260, or visit www.slope-mower.com.