We recently turned the spotlight on the acclaimed Kuhn Merge Maxx 950. Now Kuhn has extended its swather range with the addition of a larger Merge Maxx 1090 model, and a smaller 760 model. 
Both the new models will be available from the beginning of September and, like the 950, they lay the swath to the left, right and in the centre (selectable on the move). The pick-up with cam track and the leading crop press roller ensure uniform swaths.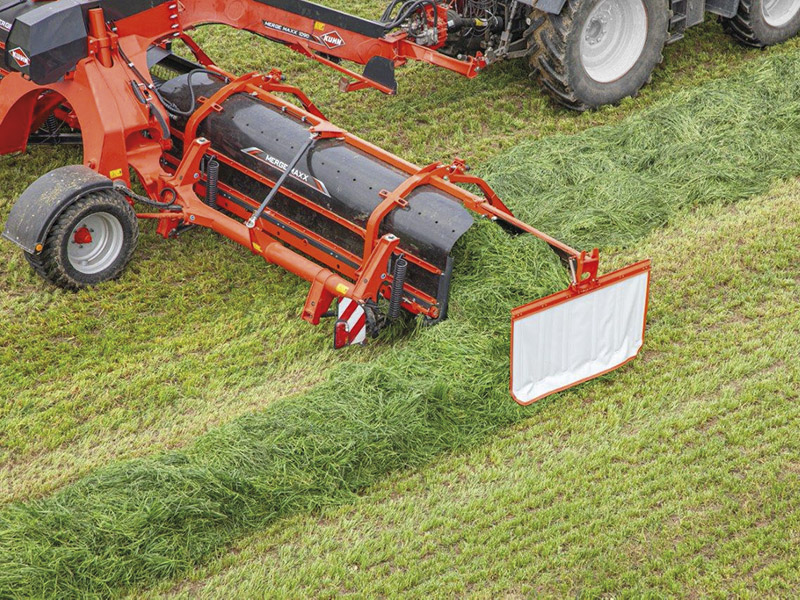 The 760 model groups 5.50 metres of work into one side swath and 7.50 metres into a central swath. The top 1090 model gathers 11 metres of work into a central swath and more than 8.80 metres into a side swath. Pick-up and swath width can be adjusted to suit the quantity and type of forage material being harvested, thus enabling the number of passes and associated costs to be reduced. For lateral swaths, the width can be varied between 1.00 and 1.50m. For central swaths, it can be up to 2.20m in width.
Auto-regulating rollers at the front and side of the pick-up unit self-adjust their position according to crop thickness. These in turn pass a consistent and constant supply of forage to the merger belts, thus allowing a uniform, airy and faster-drying swath which makes it easier for the subsequent baler or chopper to collect large volumes of grass. For forage harvesters this can equate to a 2-3 km/h increase in forward operating speed.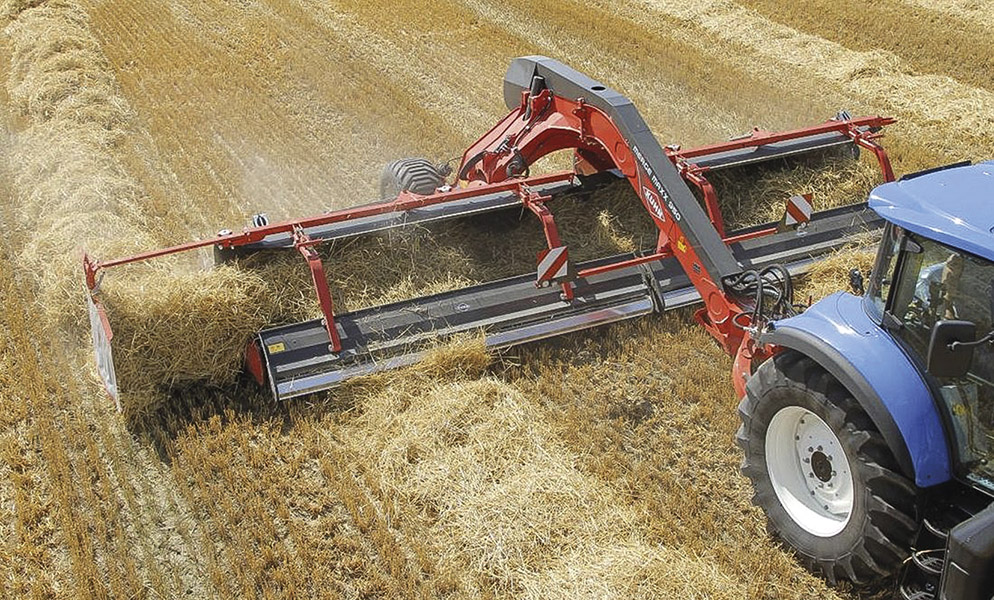 A variety of forage types can be handled including the most delicate crops, always preserving the full nutritional value of the harvest. Compared to a conventional grass rake, the Merge Maxx offers an increase in working rate, with the greatest time savings to be made when handling wet or heavier forage crops.
The pick-up unit is guided by two large articulated skids mounted near the pick-up. Their large surface area and effective suspension reduce the weight on the ground, thus protecting the plant cover. By adapting to the terrain they minimise uptake of debris, ensuring good forage quality and less time and money spent on replacing blades and other working parts on the forage harvester or baler.
To learn more about the Kuhn Merge Maxx range or to request a demo please contact your T H WHITE rep or visit www.thwhiteagriculture.co.uk.