Growth of hedges and verges has been vigorous this year due to the hot summer. Be ready to power through the hedge cutting season, with a new McConnel Power Arm.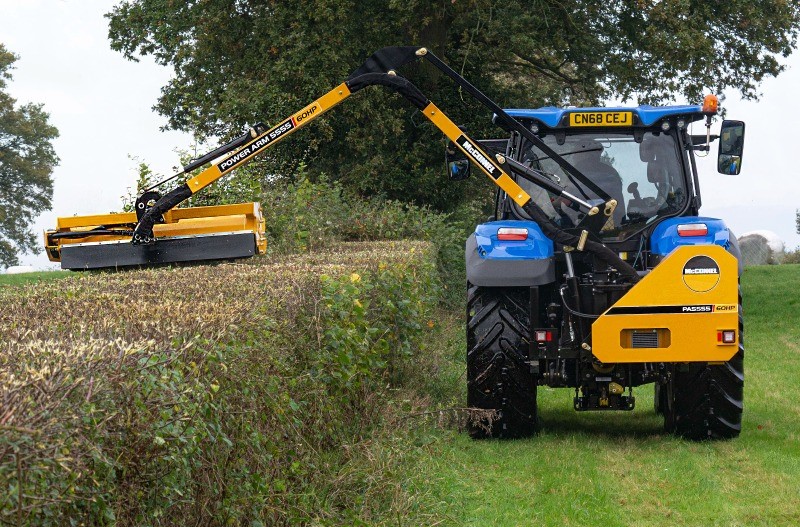 We have machines available from the 55-series which are ideal for farmers, contractors and local authority green maintenance teams. Models include the McConnel PA5455-60 and PA5555-60, with a reach of 5.4m and 5.5m respectively – and the PA5755-60 which reaches as far as 5.7m.
The 60hp hydraulic system gives these hedgers exceptional power and performance, whilst an integrated oil cooler ensures longevity with the step up in horsepower. The three-point linkage mounted Power Arms have rear guards designed to facilitate easier service access and including high-visibility LED road lighting.
McConnel's MOTION control system is an easy-to-master seven-function (six proportional) controller which offers light and precise fingertip control of complex manoeuvres and operations. The precise 'short-stick' system has been created to be rugged, responsive and reliable.
McConnel's signature features – Parallel-Arm and Hy-Reach geometry – are a standard part of the design, as are seam welded c-section arms and fully bushed pivot points to reduce stress and ensure greater durability. Hydraulic Power Slew is another standard feature which enables safe, compact transport, also providing operators with the flexibility to cut precisely in tight corners.
Also arriving in stock is the McConnel PA6565T with a reach of 6.5m and high-performance 65hp hydraulics. A value for money machine for contractors and local government, the 65-series has the reach and power to tackle extensive verge-mowing and hedge-cutting duties. The PA6565T is built from super-strength Domex steel so is extremely robust. Special features of the 66-series include SoftStart rotor engagement, hydraulic safety breakaway, and a cushioned top link for increased longevity.
T H WHITE can supply a McConnel Power Arm with various cutting attachments including a selection of flailheads from 1.2m to 1.6m, rotary heads, cutterbars and sawheads. The McConnel Orbitor head, fitting between the cutting attachment and the dipper arm, can also be added. This Orbitor head bracket gives an extra angle of movement, enhancing manoeuvrability and enabling the Power Arm to cut within the width of the tractor – perfect for working in narrow lanes!
Talk to us about McConnel Power Arm's today, call your T H WHITE rep or nearest branch – contact details HERE