DeLaval 32×32 Fast Exit with feeding, AirWash Plus and backing gate.
"It's such a great place to work!" So said Matt Kingston, standing in the vast new purpose-built shed which houses the family farm's new DeLaval 32×32 fast exit milking parlour at Tresham, near Wotton-under-Edge.
"The old parlour dated back to 1972 and despite having been updated to a DeLaval herringbone installation in 1994, it was a dark, cramped place to work. It got very hot in there which wasn't so bad in winter but was a nightmare in the summer," he said. "To be fair, the building wasn't really large enough for the parlour which resulted in it being very cramped for the cows – they would sometimes step backwards in the milking stall, miss their footing and put a hind leg down onto the equipment. That was distressing for the animals and could often cause damage to the parlour – you had to really watch what was happening.
"It got to the point where I would come in after morning milking, slump into a chair and ask myself if I really wanted to be doing this."
By 2016 the Kingstons decided to address these issues head-on, not only with a new parlour, but also a spacious new shed to house it. With a 105ft roof span the new shed took the best part of two years to plan and build. "It was certainly tricky getting the huge steel components on-site," Matt recalls. "They were far too long to be brought through the village on a vehicle so they had to come across the fields on a trailer. Even then they had to be raised to clear obstacles each side!"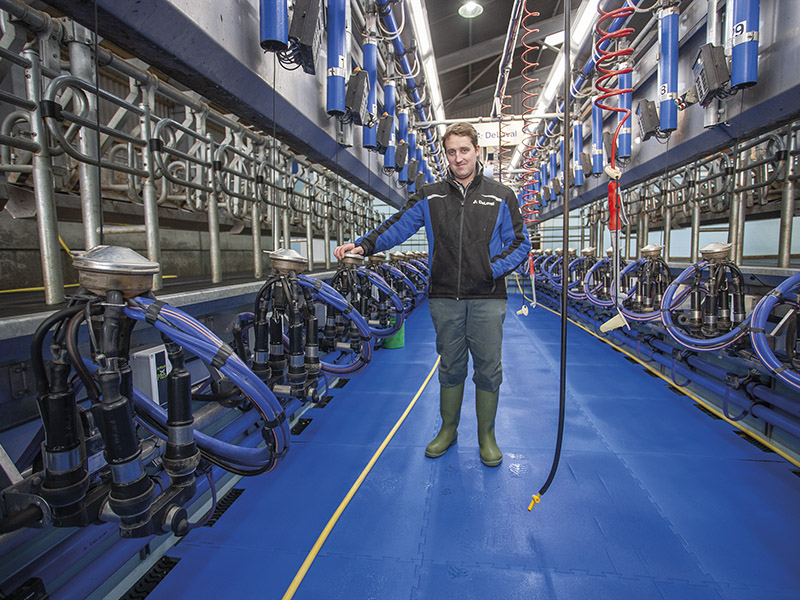 At Tresham Farm they are currently milking 250 cows, but there is the possibility of increasing the herd to 300 in the near future, or even 400 in the longer term. "We considered all the options for the new parlour. We didn't think robotic milking would be the best solution for our size of operation, but we did consider rotary. Of course, that's another step up in cost and with a rotary  there is less opportunity to monitor each cow – once you have attached the cluster she has gone, whereas in a traditional parlour you have a little longer with each animal when you can tell if something is not quite right." 
Following discussions with Matt, T H WHITE's Dairy team designed the new parlour and work began on the installation in the new shed in late 2018. Tresham Farm's contract for milk supply to Sainsburys has always meant that efficient milking and immaculate hygiene standards are at the top of the list and the new parlour incorporates feeding, a backing gate, an auto-sort gate and – importantly – AirWash Plus. "I wouldn't be without that now," says Matt. "It keeps mastitis closely under control and, together with the new automatic foot bath, helps to ensure that everything is clean and healthy.
When we made a follow-up visit to Tresham in December, the new parlour had been in use for just over 10 months and everything was as scrupulously clean as the day it was commissioned. It's no wonder that Sainsburys have held meetings there for their producers; it's a real credit to the Kingston family who are playing an active part in keeping British milk production standards at an exemplary high level.