If you drive towards the Mendip village of Stoke St Michael on the road from Cranmore, it's quite likely that you will be completely unaware of the massive 240-acre excavation at Moons Hill Quarry.
"That's just how we like it," explained Andy Open, Wainwright's Quarry Development, Estates and Special Projects Manager. "Ever since quarrying started at Moons Hill in 1891 Wainwright has always made a special effort to be good neighbours with the local community. The quarry is well screened by trees but we also take many other steps to minimise our impact on the environment. A key part of that is dust control."
Moons Hill is the only Mendip quarry extracting basalt, an extremely durable and high quality volcanic stone which forms the basis of Wainwright's premium aggregates. The workings now extend well below the level of the water table so pumping is carried out round the clock, both to drain the lower levels of the quarry and to maintain the local water course. Despite the presence of all this natural water, dust control is essential both in summer and winter and it calls for some specialised kit.
"That's where T H WHITE's expertise really helped us," said Andy. "For many years we have operated a tractor-hauled water tanker which we use to spray stockpiles, heavy plant and roads to keep the dust down. As the quarry has expanded it became obvious that we needed a much larger tanker and a beefy tractor to pull it – and stop it!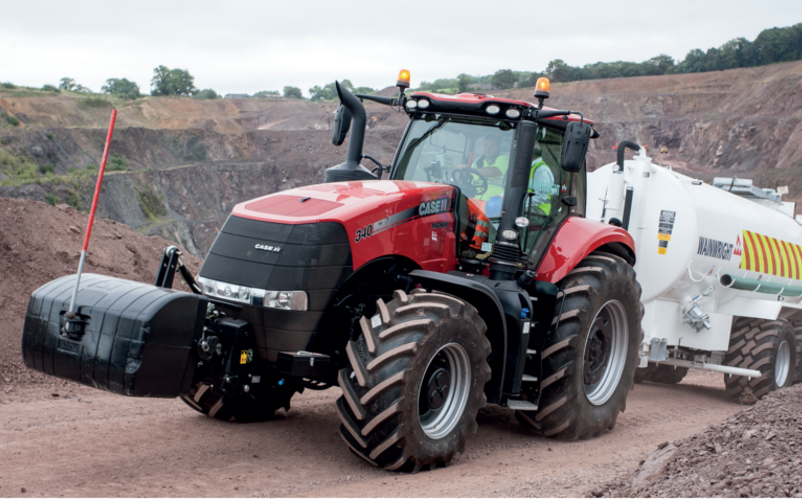 "Our requirement was quite unusual in that we needed a heavy and powerful tractor, but it had to be relatively simple and ultra-reliable for the tough quarry environment. We definitely didn't want a tractor full of complicated electronics and we just didn't need most of the gadgets and gizmos now fitted to many agricultural tractors."
Andy put a specification out to a number of local suppliers to see what recommendations they would make. "Some of them took the easy route and were just keen to sell us a standard product, but what set T H WHITE apart was the interest that Nick Norman and Bob Gallop from the Frome branch took in delivering just the right solution. Having carried out a number of trials and demonstrations Nick proposed a Case IH
Magnum 340 tractor. At around 16 tonnes it had the weight we were looking for to ensure safe operation around the quarry with a 4,000 gallon tanker, and by choosing the base model we could have a thoroughly tried and tested tractor with great driver comfort but few potential complications. It also had PowerShift transmission, making it easier and safer to use on the gradients around the quarry."
Bob then worked closely with Hi-Spec tankers to design and build a bespoke 4,000 gallon water tanker with steering on the rear wheels to make it highly manoeuvrable and reduce tyre wear on the abrasive quarry surfaces.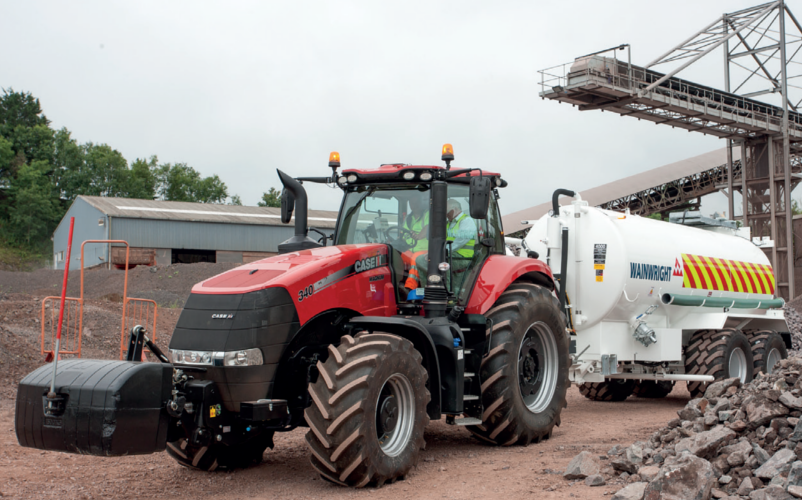 "The tanker is fitted with a high pressure spray bar which we use for cleaning the tarmac roads on-site as well as the local public roads. In summer it's highly effective at damping down dust and in winter we will use it to clean off any residual deposits," adds Andy. "When off road the spray bar can be raised on hydraulic rams and the tanker is also equipped with a water canon for cleaning machines and damping down stockpiles."
Delivered on 1 September, the tractor and trailer combination was able to give demonstrations at an open day held to celebrate Moon Hill Quarry's 125th anniversary. "We have certainly ended up with the right combination," said Andy, "thanks to the work put in by Nick and Bob at T H WHITE even though this application is in a non-agricultural setting."
If you have an unusual application for which you need a bespoke solution, please do contact one of our teams – you might be surprised at what we can come up with.