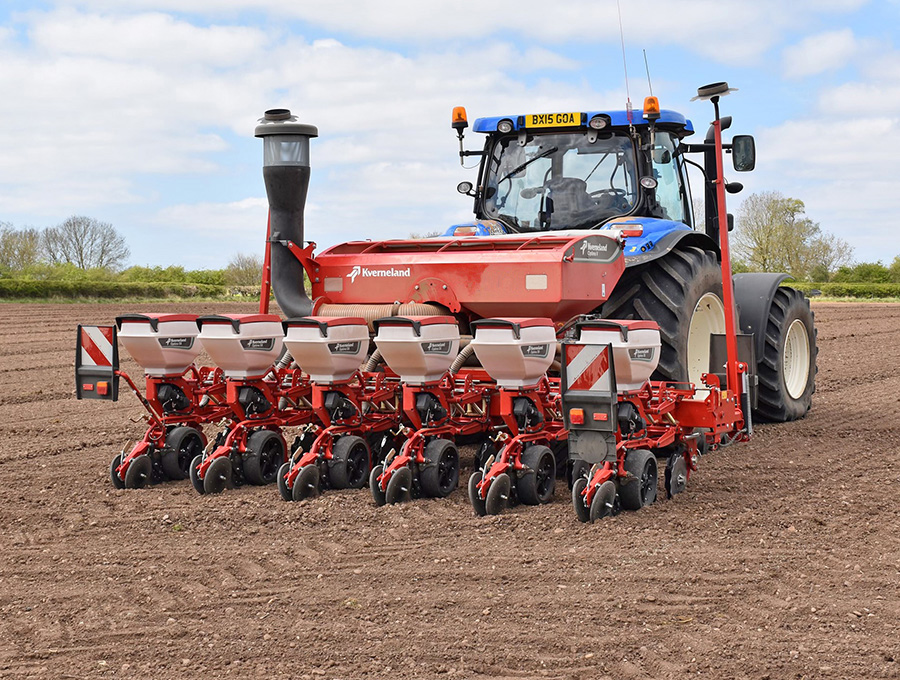 Warwickshire farmer and contractor Jonathan Goadby needed more drilling capacity but without moving to a larger and heavier precision drill. The perfect solution was a Kverneland Optima V equipped with SX high-speed sowing units.
The six-row mounted unit, complete with hydraulic drive for fertiliser placement, telescopic frame, large fertiliser hopper and ISOBUS connectivity, was supplied by T H WHITE. "I considered an eight-row to replace my old six-row unit, but I would have needed a bigger tractor to run the drill," says Jonathan. "By going to the high-speed SX units, I've stayed with a six-row mounted model that uses a variable width frame."
D Goadby & Sons provides a contract planting service for local growers, covering 1,100 acres of maize drilling in addition to the 350 acres it grows on its own Warwickshire farm. With electric seed metering drive and automatic section control operated via GPS through an IsoMatch Tellus GO in-cab terminal, Jonathan says seed cost savings are paying for the extra technology.
"GEOCONTROL is a must-have," he says. "There are no overlaps, so we don't waste seed." 
He adds that planting accuracy is much greater than his previous Optima, with seed placement from the SX units noted as much more positive. 
"Where we would plant at 8kph, we're now travelling at 12kph," he says. "That's a 50% higher forward speed, with the ability to travel at up to 16kph if needed."
Jonathan says the six-row Optima outfit is compact and easy to transport. When used on a New Holland T6.175 on 710 tyres, he says compaction is minimised. "Headlands are much better, simply because we can keep the weight down," he adds. "I do have a set of 1050 tyres if conditions are really tricky."
He also says that the decision to choose hydraulic fan drive instead of a pto for the fertiliser has brought fuel savings. "I can power up a steep bank or run a gear higher at lower rpm when coming down, without affecting accuracy," he says. "This level of control also lets me make fertiliser rate adjustments from the control box, to suit changes in soil type."
"It's the best of both worlds – output and precision without needing a bigger drill!"
Kverneland machinery is sold from our Hereford, Warwick and Stourport branches. To learn more about the Kverneland Optima V talk to our T H WHITE sales representatives at these depots