KUHN is the 'Rolls Royce' of grass kit, so make sure you have the best this season. As a major Kuhn dealer T H WHITE can offer you the full Kuhn product range and we currently have all these items and more IN STOCK, ready to go, and backed up by a fabulous after-sales package on parts and service. All machines benefit from excellent manufacturer warranties, with 2-year warranties on balers.

PLUS… We also have a large selection of Non Grass KUHN Kit in stock – supporting late cultivation, spreading and drilling, maize prep…
Kuhn Twin Disc Fertiliser Spreaders that we currently have in stock include Axis 30.2, Axis 40.2 emc and Axis 50.2 hemc models, all of which incorporate the CDA distribution system to deliver the right dose in the right place every time, resulting in significant cost efficiencies and savings in fertiliser.  With capacities from 1,400l upwards, the units can be linked to tractor guidance systems. Spread width can be varied from 12 to 50 meters simply by changing the spinner discs.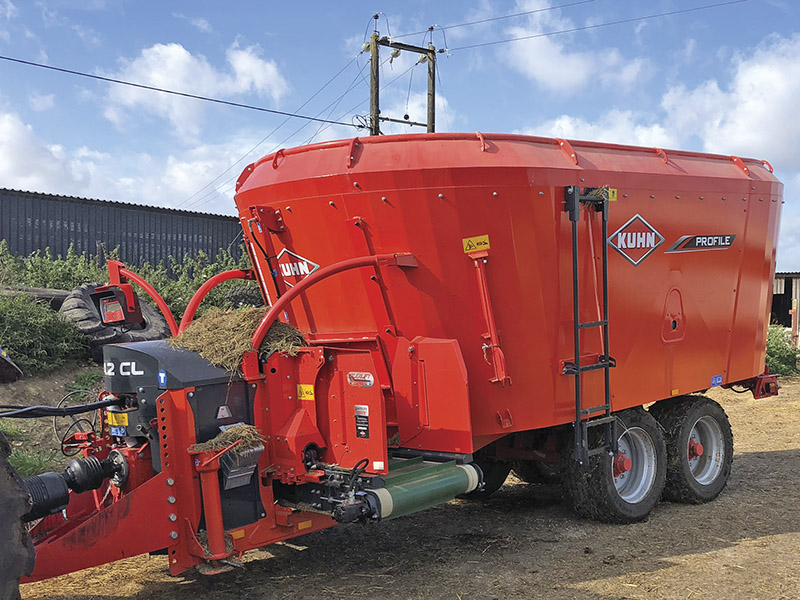 KUHN Profile 24.2 CL TMR Mixer Wagon
A one-off opportunity to acquire this ex-demo Kuhn Mixer Wagon at a very keen price: cross feeding, 2 vertical augers, anti overflow ring 5 point, Flexilift tilt and slide conveyor, 6 auger knives, k-nox augers, manual counter knives.
Only £39,950
Don't forget we offer the full Kuhn range including ploughs and bedding and feeding products – if there's something you don't see here we can usually obtain it on request.
To enquire about any of the KUHN products shown here, contact your T H WHITE sales representative TODAY. Make 2019 your best season ever!