There is no doubt about this machine's pedigree – Kawasaki first brought the Mule to the UK in 1988 where it has established an enviable reputation for quality and performance in this sector.
The 2020 MX PRO is a further development of the range and is a  more compact version of the diesel Mule DX. It certainly has curb appeal, looking boxy, rugged and refined, yet overall built to function, whether for farming, shooting, equine or private use. Retailing for only £9,129.00 + vat, it is exceptional value too! So, let's take a look at the stand-out features.
POWER
Powered by a fuel-injected 695cc SOHC, 4-valve, four-stroke engine tuned for a broad torque curve, the MX is lively, responsive and above all quiet, both in cab and out. The engine delivers excellent fuel economy from its 36-litre tank with a very respectable top speed.
Drive is through a fully automatic CVT system, with high and low range, selectable 4wd and difflock at the press of a button. The system has been designed for towing and importantly it has very controllable downhill engine braking. The main drive shaft UJ is almost over-engineered for strength and durability.
The oil filter is  easy to reach and under the seat is the battery, oil dip stick and airbox.  The engine air intake, CVT air intake and electrics are positioned high in the chassis to avoid contamination.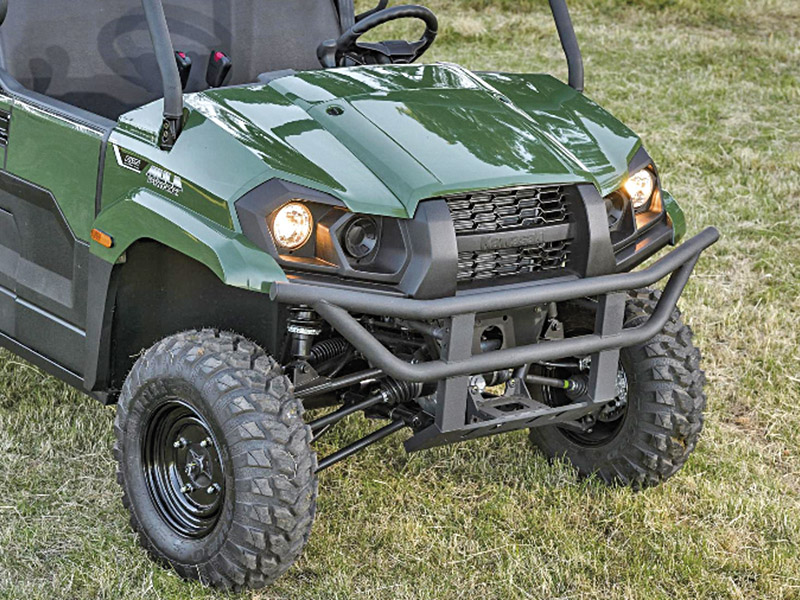 COMFORT
Kawasaki has done a super job of making sure both driver and passenger feel comfortable and secure on a sculptured bench seat which is hinged for access to storage beneath.
The dash with digital display is really user friendly with everything to hand, and easy to use even with gloves on a cold morning. There is storage and cup holders too, with extra storage under the bonnet lid as well. Lighting is both halogen and LED.
The lightweight power steering is a joy, the wheel is adjustable and provides great feedback on any terrain. 
CHASSIS
Built around a strong ladder chassis, the MX rides on adjustable independent suspension with hydraulic disc brakes all round, while the engine is mounted on rubber isolators to reduce vibration. The tyres are 25in diameter to iron out the going on 12in rims. 
The rear bed tips with gas strut assistance and is slightly angled for water run-off with a steel chequer-plate floor. There are cargo divider slots and six tie down hooks and even the rear tailgate hinges to provide extra length to the bed. The MX will tow 680kg and carry 318kg on the load bed.
DRIVE
The Mule MX is compact, offering the ideal step up for an ATV user who wants load capacity, weather protection and the ability to carry a passenger. It's very nippy and quiet to drive, covering the ground with pace – especially important if you are controlling  livestock or game birds.
It has massive reserves of torque when towing and, above all, the manoeuvrability of the MX really sets it apart from its competitors because of the tight chassis, short overhangs and excellent steering lock. It really is very driver friendly. Ground clearance is good too and the tyres provide plenty of traction even in wet going.
If you are considering upgrading from your ATV to a UTV or simply in the market for a compact UTV then do contact us about the MX. We can offer a demonstration and price-up a package for you with cab options.
CALL OUR KAWASAKI SPECIALISTS:
HEREFORD Will Farr  07495 114325
FROME Stuart Crook  07831 249489
KNOCKDOWN Marley Lawrence  07483 037710
TODDINGTON Tim Rochfort  07973 911934
Marlborough Callum Rea  07860 712963
STOCKBRIDGE Chris Martin  07973 911934
Our team will be very happy to help and advise you.