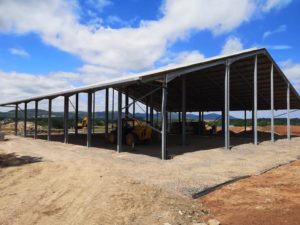 Early stages of an impressive new DeLaval V300 build for the Jeynes family at Red House Farm in Longdon, on the Gloucestershire/Worcestershire border.
With a growing herd size they were keen to improve efficiencies so are installing a complete new free access cubicle shed which also houses two new DeLaval V300's along with DeLaval Body Condition Score Camera, DeLaval Brushes and a DeLaval Milk Silo.
This new facility provides a host of fast, quiet and robust processes to prompt repetitive milking 24hrs a day, whilst providing the cows with a comfortable milking environment. The DeLaval V300 assisted by the Delaval InsightTM will ensure the cows are milked comfortably and efficiently, backed up with the DeLaval Delpro computer system, which will provide the Jeynes Family with important information on herd health and cow performance.
The install is scheduled to complete at the end of September 2021, but unfortunately with current climate situations affecting the availability of building materials and timber this date may change.
Overall, milking capacity will be increased and the comfortable system, along with the DeLaval extras, will equal very happy cows. We look forward to checking in on the results on completion!