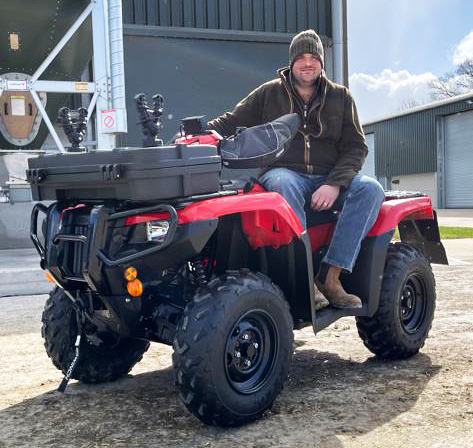 James Hudson runs a syndicated pheasant shoot in Wiltshire and relies on premium ATVs to ensure that the job or delivering high quality game shooting can be achieved at the right time. Earlier this year he took delivery of a new Honda TRX520 Foreman FA from T H WHITE ATV specialist Tim Rochfort.
"The TRX520 is a fantastic piece of kit," says James, "and something that no keeper should be without! We also have a Logic trailed game feed spinner, a rack-mounted OBS sprayer with hand lance and boom, plus two trailers and a smaller seed spinner for the ATV.
"It's surprising how fast the hours clock up as we use the ATVs for virtually everything, but when the kit needs servicing Tim has always arranged for it to be done quickly and efficiently so that our workflow is not affected.
"Tim really does have an incredible depth of knowledge in the ATV/UTV sector and I have always received fantastic service at T H WHITE – nothing is ever a problem and everything has been specified just as I wanted it. I would sincerely recommend anyone wanting an ATV or Logic attachment to visit the team at T H WHITE."
Well, you can't say fairer than that!
Why not try a Honda Foreman for yourself? Contact Tim Rochfort on 07973 911934.