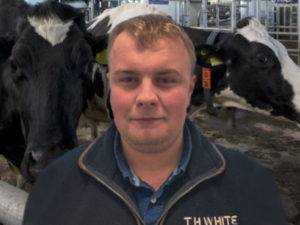 It's a year on since Brandon Wilcox transferred into a full time role as Slurry Specialist for T H WHITE Dairy so we dropped in on him to learn what led him to Dairy and what the last year has held.
Brandon grew up around farms so it's no surprise he's passionate about farming and working in the industry.  His story begins in Wedmore in Somerset, where he grew up on a family farm and was tinkering with machinery as early as he could walk.  Brandon recalls most school holidays spent helping out on farm.  He studied farm mechanisation at Lackham college, before assisting a team of steel frame building installers and then embarking on several years of farm contracting – mainly spreading and harvest support.
Brandon joined T H WHITE in 2019 as a parts advisor at our Frome depot and spent a year increasing his machinery knowledge then challenged himself to move into tractor sales promoting Case IH, Pottinger and Bednar throughout the South West.  Our slurry specialist at that time was retiring and Brandon was keen to add more skills under his belt so stepped up to the opportunity.  He already had relationships with many of our mixed farmers and the variety of the job appealed.  A typical day can be anything from conducting a farm survey to compile a quotation, guiding engineers on slurry solutions, commissioning kit ready for delivery or visiting new customers to promote our slurry offering.
'With innovative and varied solutions on offer from leading suppliers like DeLaval, Bauer, Hispec, Ktwo, and Mastek, the equipment sells itself,' Brandon says.  'We've got some of the best brands out there.'
For example, Brandon recently recommended the supply of a 12m Mastek dribble bar to W F H Francis & Son farmers based near Bath.  This specific width allowed his client to successfully applicate slurry down the tramlines of his corn fields without the risk of damaging crop.  Another carefully recommended solution was the install of a separator at Wiltshire College Lackham campus where the team were looking to maximise storage capacity to separate solid from liquids for umbilical pump out.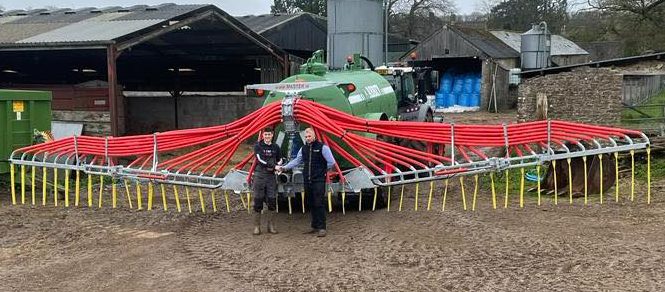 He recently sold two 2600 gallon HiSpec tankers to James Bolton Agricultural Contractors, Somerset, when they requested a fleet upgrade, and this specific model was fitted with lazy arm suction, minimise the number of times the operator has to get in and out of the seat during his daily shift.  Working collaboratively with G B Gibbons, another success story was the specifying and delivery of a brand new 750,000 cubic m slurry store to Wareham Partners allowing them to upscale their storage needs within the current capacity legislation.  This solution was installed roof ready and with the ability to extend the store.  Brandon enjoys his direct relationships with customers as well as collaborating with his colleagues in the sales teams across T H WHITE to identifying opportunities.
Brandon goes on to say, 'Farming is like no other sector.  It's an addiction, like a drug.  Once you are in, you're often in for life and its hard to stop.  I am always keen to serve my customers; to fully understand their needs and help make their operations more efficient.  I enjoy Dairy more than selling tractors as I feel closer to my customers – like one of the family really.  I care that I am instrumental in helping their businesses operate efficiently – and that's truly satisfying.
Mirroring dairy farming hours means Brandon doesn't find much free time, but when he does he plays rugby for Cheddar and has aspirations to travel the world in the future.
To learn more about T H WHITE Slurry solutions give Brandon a call on 07850 301575 or email him on brandon.wilcox@thwhite.co.uk.