"One of the things I used to dread was evening milking. I would be thinking about it all day while I was doing other things – it just took the edge off a job that otherwise I really enjoyed." So says Doug Roper of Roper Bloodstock (pictured right, above, with his brother Henry), whose dairy farm near Bromyard has a herd of 120, with around 107 in milk.
"Making it worse was the fact that our old Westfalia 8/16 parlour was completely worn out and the building that housed it was in a poor state. We knew we really had to start afresh and the turning point was the announcement of the Government's Countryside Productivity Small Grants. The possibility of getting a grant unlocked the opportunity to redevelop our dairy."
Doug began the application process in 2019 by seeking quotes from suppliers. "Given that we had the chance to make a significant change we were fairly sure that robotic milking was the path to take. The DeLaval Voluntary Milking System was impressive so as we were putting together our funding bid we began talks with T H WHITE's VMS specialist Chris Newey.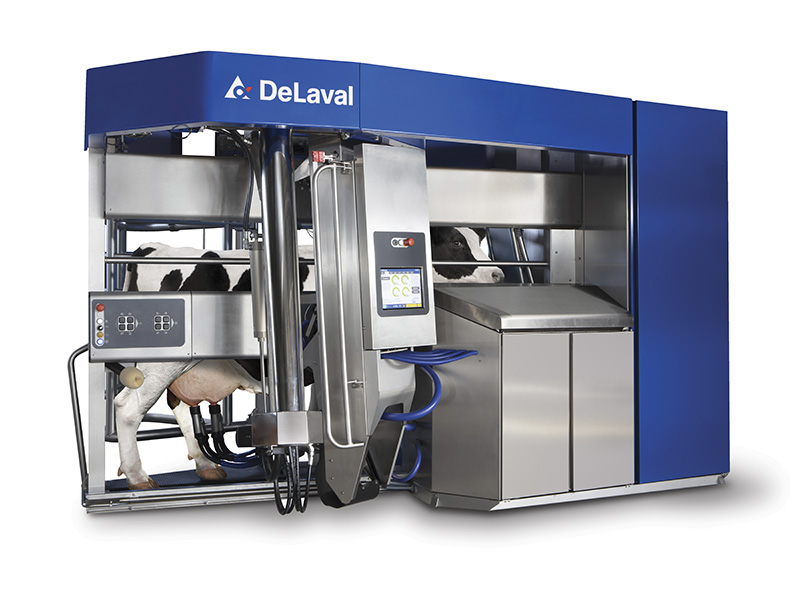 "Once we started looking at the options Chris suggested that we would do well to consider the DeLaval V300 VMS units which had been announced in 2018 and were about to become available in the UK. That was good advice as the V300 in not only 50% faster than the previous model but also has 99.8% accuracy in attaching teat cups and is quieter – delivering a stress-free and relaxed experience for the cows.
"The more we looked at the project, the more convinced we became that the one thing we would not cut corners on were the VMS units – everything else could be as cheap as possible!"
With a firm proposal put together, the Ropers made a successful grant application and their new dairy installation was started in the autumn of 2019, with T H WHITE installing two V300 robotic milking units supported by DelPro software. It was ready for the first milking on 13 January 2020.
"As you would expect it took a little while for the cows to get used to the new set-up but generally they took to it very well and were much calmer being milked by robots," said Doug. "The first part of the year – when the cows were inside – was quite easy to manage, but when outdoor grazing started we had a few challenges in getting the cows to come in when they needed milking. It was all part of the learning process – all we had to do was set up the grass areas so that the cows had to pass through the shed to get from one to another, and problem solved! It means a fair bit of fence moving but the amount of labour needed is nothing compared to conventional milking."
After just over a year, the Ropers can take stock: "It really has been a success," enthuses Doug. "Our milk yields are up around 20% and it has transformed the way we work – no longer do I dread evening milking! Most importantly the cows are happy, partly because of the new milking routine and partly because of two DeLaval swinging cow brushes which T H WHITE also put in. The animals love those, and there's nothing better than a contented cow!"
If you would like to know more about DeLaval voluntary milking systems and the V300, call our VMS specialist Chris Newey on 07880 798475 and visit www.thwhitedairy.co.uk