T H WHITE has always taken a long-term view of the benefits, cost savings and even profits that customers can derive from solar photovoltaic installations. For that reason we have always supplied high quality panels with premium inverters and professionally installed systems.
More to the point, and unlike many companies that have already disappeared, we are in the business for the long term and will be here for many years to come, to supply, install and service your solar PV systems.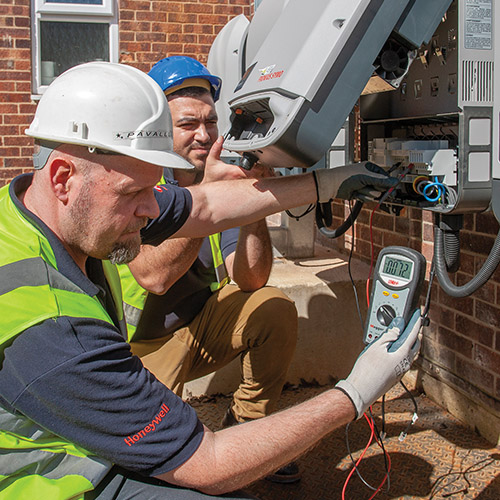 Like any other electrical installations, regular checks and maintenance are essential to ensure that solar PV units deliver optimum performance and remain safe in use. It's obvious that dirt and dust on the panels will reduce the amount of light falling on them and consequently the amount of power generated. In cases where panels are badly soiled this can cost you the savings that the system was expected to give you, as well as your feed-in tariff income. Even in a normal British summer panels are likely to become dusty and impair performance, so T H WHITE can carry out regular cleaning for you using specialist equipment. However, cleaning is just one aspect of our service programme, so what else can you expect?
We have devised a number of service programmes to suit different needs, but on a typical visit the technician will carry out an electrical test and check-up, a yield analysis to determine whether the system is functioning at its best, as well as a fault-finding regime. Where repairs are necessary, these can often be carried out on the spot.
If your system is under warranty we can carry out any necessary replacements or repairs and if the company that installed your system is no longer trading we can take over the maintenance.
Depending on which maintenance package you choose, we can also offer remote monitoring solutions that enable us to keep an eye on your system to ensure it will repay your investment.
Our service packages are a great way to gain peace of mind and get the most out of your solar PV installation. To discuss what's right for you call us on 01380 726656 or take a look at our website, www.thwhiteenergy.co.uk.