In the past, diesel was always a firm favourite among professional groundcare contractors – reliable, cheap to fuel, powerful and long lasting. Petrol-powered machines just were not in favour.
But now, with new emissions legislation, a focus on greener energy across the UK and some Councils looking to remove all diesel-powered machinery from their cities, petrol is a viable option for even the toughest maintenance tasks.
Ferris has spent years perfecting the most efficient, powerful and productive ride-on professional mowers and now supplies some of the most durable and comfortable petrol machines in the industry.
The 52" IS®2100Z features a Vanguard EFI petrol engine, offering 25% better fuel economy than a traditional carburettor engine, increased power, optimised starting in all conditions and better engine performance. It also benefits from the Vanguard Oil Guard™ system, a first of its kind solution and exclusive to Ferris. This system extends the interval between oil changes from 100 hours to 500 hours, saving time and money on oil changes and increasing your productivity.
New in 2019, the Ferris ISX™800 with 52" deck offers ultimate power and productivity, with a 27hp Commercial Turf Series petrol engine featuring an ultimate 5-step dust and particle filtration system with integrated cyclonic air cleaner. Users of the ISX™800 also benefit from the first-of-its-kind double wishbone suspension system, which enables complete independent terrain-following movement of the deck for a smooth ride and supreme cut quality.
For customers who engage in light commercial mowing, the 48" Ferris 400S is the ideal work companion. With a 23hp Commercial Turf Series petrol engine, four deck configuration options and Ferris' patented suspension technology, your working day will be comfortable, efficient, productive and clean.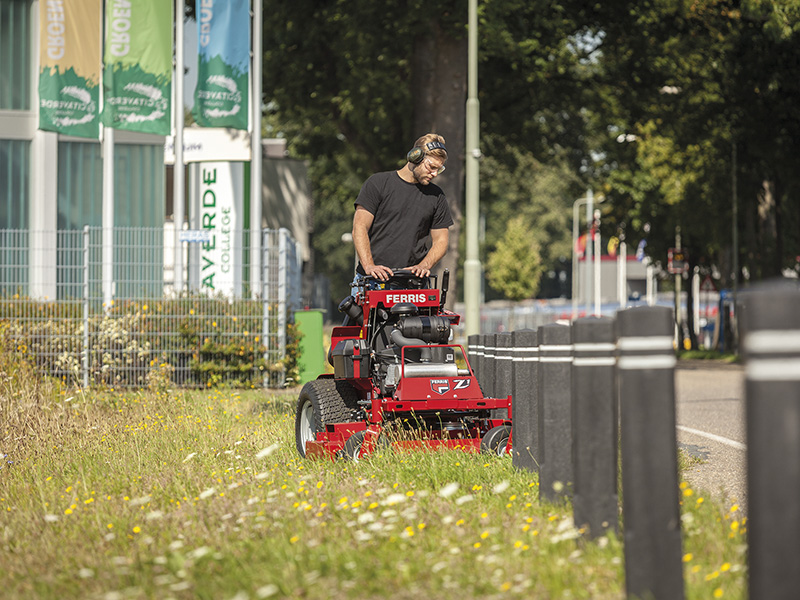 Finally, for those looking to stand and mow, or to speed up a job usually completed with pedestrian mowers, the Ferris SRS™Z1 offers premium productivity and speed with the power of petrol. With a 19hp Kawasaki petrol engine, comfortable suspended operator platform, 36" or 48" rear discharge cutting deck options and a narrow footprint of just 92cm wide, it is perfect for maintaining areas around obstacles, in tight spaces or through narrow access ways.
Ferris dealers across the country are providing no-obligation demonstrations for customers right now. To arrange yours and try the power of petrol with a Ferris, find and contact your nearest dealer at www.ferrismowers.co.uk/find-a-dealer.