Vanguard™ EFI Engines
EFI: The Ferris Advantage 
As our industry moves towards a more sustainable pathway, we have the ability at T H WHITE Machinery Imports to give an economical alternative to diesel engines. EFI or Electronic Fuel Injection systems provides the latest engine technology, only seen on Ferris mowers, that allow a cleaner and more sustainable approach to groundcare equipment and will continue to revolutionise the industry.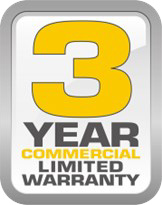 Why choose an EFI engine?
• Reduced fuel consumption
• No choke – Effortless starting regardless of engine temperatures
• Speed sensing – Allowing for no drop in engine RPM when engaging deck
Fuel economy vs carburated systems 
When the engine is running at a lower power, between 10% to 50% load, the engine runs 24% more efficiently than its carburated counterpart. When running the engine between 75% and 100% load the engine runs 10% more efficiently. 
Vanguard™ Oil Guard System
What do our customers want?
• Longer oil change intervals – a more productive machine, less down time
• Easier access to filters – faster turnaround on services
• Mess free systems
What can Vanguard Oil guard system do?
• Saving 4 times on oil and filter changes per 500 hours
Usually 5x filters and 12 litres of oil per 500 hours But, with Oil Guard 1x filter and 4.7 litres of oil per 500 hours 
• Large fill opening with easy filter change which reduces the risk of spilling oil

For further details contact: 
Parts:  01264 811260   Nigel Goodall
Service Technician:  07483 071403    Steve Perkins