While there are certain jobs that demand the power of a large tractor, there are many tasks around the farm for which a compact tractor can be the perfect workhorse, scoring highly for versatility, manoeuvrability and high power-to-weight ratio. In fact, you might end up finding you use a compact tractor more than anything else, so it's worth choosing one that offers true robustness and reliability for a long life.
The Case IH Farmall A and Farmall C ranges tick all the boxes. The three tractors in the Farmall 55-75 A series are the entry level models, but that does not mean they are short on specification or comfort. As the series name suggests, these compact tractors come with three power ratings – 55, 65 and 75hp – and are available with or without cabs. They are ideal for smaller operation, specialist applications or where a lighter weight is needed. Two and four-wheel drive options are available and the open platform version features a ROPS bar that can be folded down to create a very low height tractor well suited to use in sheds or poly tunnels.
The rear lifting arms van handle up to 3,000kg and a 540 rear PTO is fitted as standard. The cab versions have an integral sun roof, heating and ventilation with the option of air conditioning and a bluetooth radio.
The next group of four Farmall A Tractors cover power ratings 85, 95, 105 and 115hp with an economical 12×12 mechanical shuttle or a 12×12 hydraulic PowerShuttle making for predictable and safe manoeuvring, especially during loader work. The Farmall A is easy to operate, meaning that new or novice operators can quickly familiarise themselves with it, whether working with mounted machinery, trailed equipment, with a loader or on transport duties.
Taking a step up, the Case IH Farmall C range boasts seven models from 58 to 114hp with the power and versatile to tackle most jobs on your mixed farm. They also benefit from updated features, including optional Multicontroller armrest, higher 4,400kg lift capacity, three-speed PTO and a loader-ready package as standard. Despite being at the smaller end of the Case IH range, the Farmall C is more than capable of handling not only the front loader but also many attachments such as mowers, rollers, much spreaders and feeder wagons, and there are front linkage and front PTO options.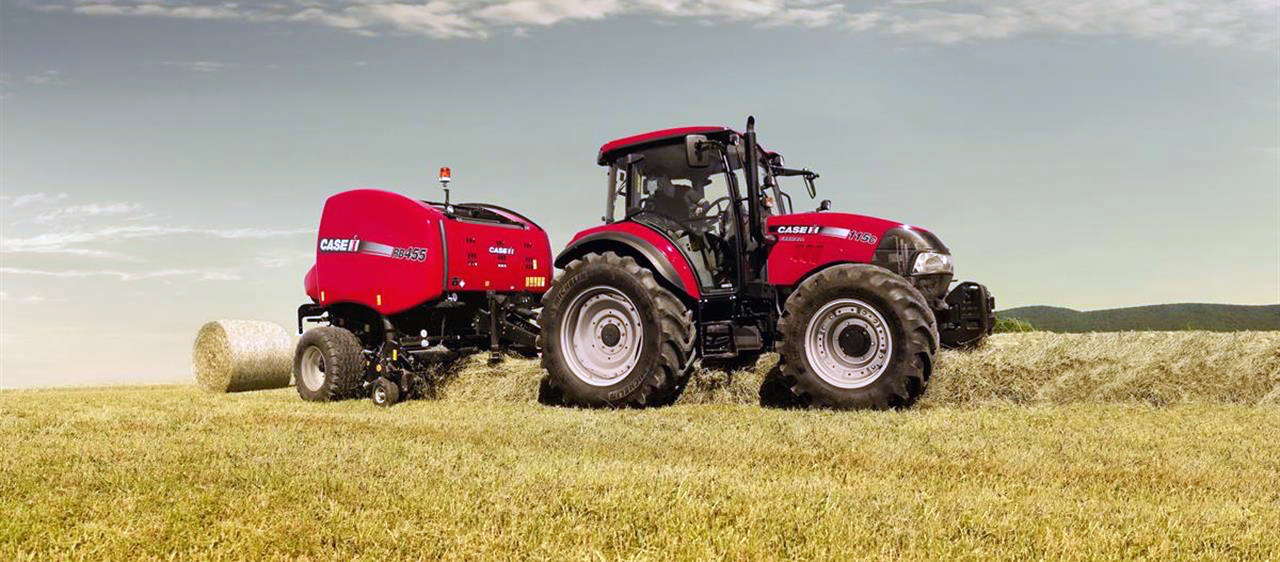 The compact design of the Farmall C conceals engines and transmissions that punch above their weight. That's the secret to their ability to switch easily between yard jobs in confined spaces one moment, and putting in a full day's field work the next. Equally at home on grassland and livestock farms, specialist enterprises such as poultry units and vegetable growing, and turf and amenity maintenance, Farmall C more than lives up to its name.
The latest development in the Case IH Farmall range is the introduction of Stage V models in the 90 – 120hp range which not only comply with the latest Stage V emission regulations, but also offer a 5% increase in horsepower compared to the previous Stage IIIB engines, plus up to 10% more torque with maximum torque delivered at a lower 1,300rpm.
You can a video walk around of the Farmall C above but to request your own demo either speak to your T H WHITE Pro Agri rep, or make a request online at www.thwhiteagriculture.co.uk/get-in-touch .