As leaves begin to fall the task of keeping them under control is ever-present. Leaf blowers certainly make the task much easier and quicker, but sadly too many are noisy, cumbersome and tiring to use, as well as being far from energy efficient.
Not so the Pellenc Airion 3. Making less noise than an average hair dryer, the battery-powered Airion weighs only 2.55kg, yet has an unmatched thrust of 17.5 Newtons. Its body-worn lithium-ion battery pack will deliver a full day's work and the Airion will remain perfectly balanced in operation, regardless of which of the four power settings you select, or whether you are using it in your right to left hand.
The Pellenc Airion 3 comes with a lifetime guarantee thanks to the tough magnesium alloy body and an IP54 (ingress protection) rating which shields against dust and rain. It's a great way to make light work of keeping grounds tidy, especially as it's inoffensive to use in sensitive areas such as built-up zones, parks and gardens.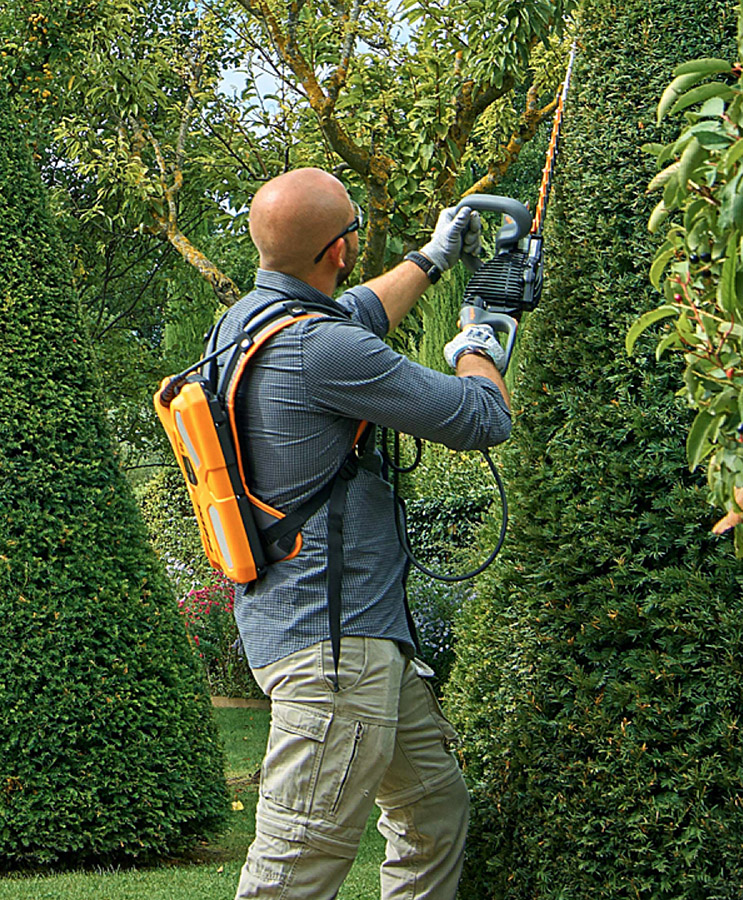 Pellenc batteries have been designed for use with any of the brand's power tools so if, for example, you have a battery pack for an Airion blower, you could also use it with a Pellenc Helion 2 Compact hedge trimmer – and there are many sound reasons for making that choice. Like the Airion 3, the Helion 2 Compact is quiet to use and ergonomically-designed for comfort in work. The head is flexible from +90º to -45º making it easy to trim in all positions and there are four types of interchangeable cutter which can be changed in less than a minute. If the blade gets caught in vegetation a unique anti-lock system will reverse the direction of motor rotation, preventing damage.
---
If you are looking for a true all-rounder that can be used for mowing but also scarifying, mulching or collecting dead leaves and other debris, the Amazone Profihopper 1250 could be the perfect answer. This compact, zero-turn,self-propelled cut-and-collect mower has a 1.25m cutting deck and a hopper with capacity for 1,000 litres of cuttings. Leaf collection is highly effective, even in wet conditions, and the unit's powerful suction will pick up all types of debris including chestnuts and acorns, all of which are chopped by the mower's rotating blades to speed decomposition.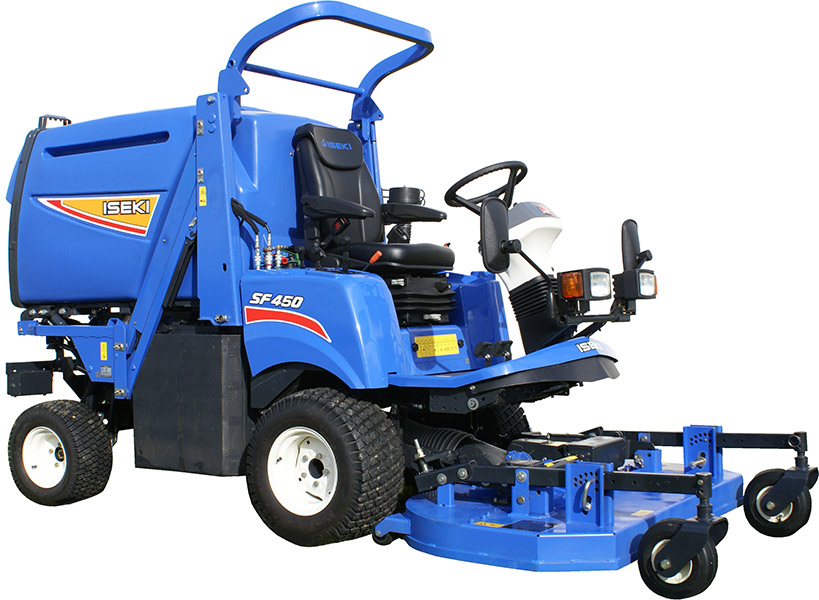 For even greater capacity when mowing and collecting, the Iseki SF450 has a 1,300 litre container. This is the most powerful outfront mower in the Iseki range, working at high speed as well as reducing the frequency of dumping.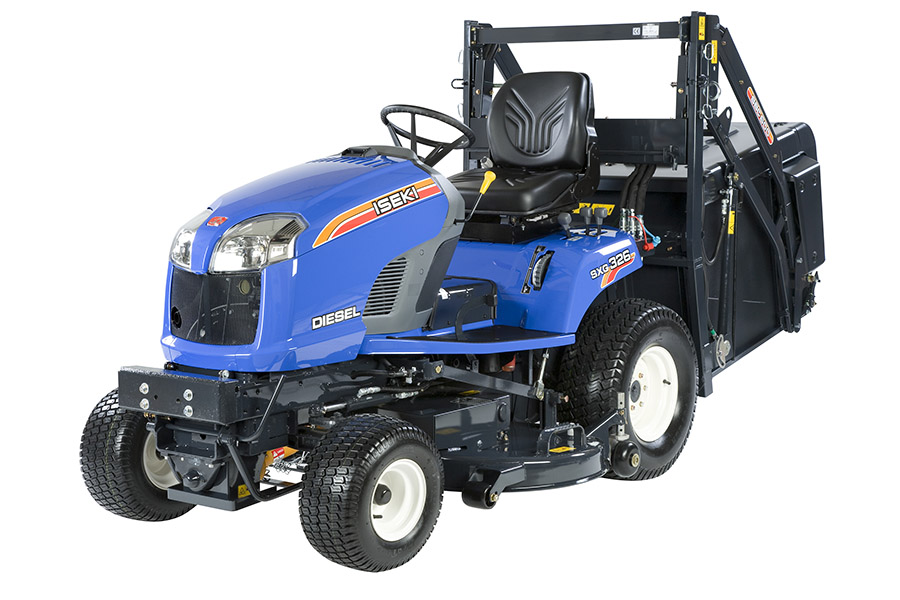 If you don't need quite that much capacity, the Iseki SXG Range is a great all-round cut and collect mower with capacities of 600, 550 or 320 litres. All Iseki mowers will keep you working in wet or dry conditions and are supremely economical.
---
Autumn cutting, pruning and estate management produces a great deal of timber boughs and branches that require environmentally-friendly disposal – a task that calls for the original and best woodchipper – Jensen – designed and built in Germany since 1884. Jensen's petrol or diesel-powered chippers are some of the most popular in the industry. Fixed and turntable road-towable models have capacities from 6in to 12in, and there are tracked models too for working in difficult areas such as railways, highway embankments and hillsides.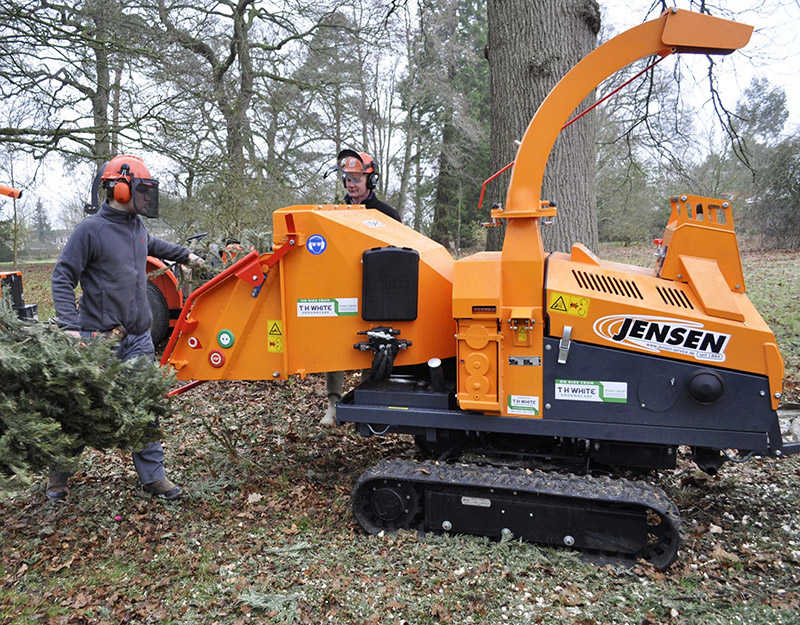 ---
These are just a few of the tools that can make your life easier dealing with grounds maintenance tasks through autumn and into winter, but T H WHITE Groundcare can assist you with a vast choice of machinery. To try any of the items we have shown you here, or just to find out more, contact your T H WHITE rep or any of our Groundcare branches.