In today's tough trading climate it's more important than ever to have efficient protection for the people and premises in your business.
Reliable fire safety and security equipment is a must, but regular servicing is also vital to ensure it operates correctly at the crucial moment when it's most needed. In fact, many insurers will require systems to be serviced and maintained with a certified provider in order to maintain the validity of insurance cover.
That said, we know that the costs of running a business are particularly challenging right now, so at T H WHITE Energy, Fire & Security we aim to provide the highest quality, comprehensive service, saving you money at the same time.
We have built a reputation as a trusted after-sales specialist in all aspects of fire & security maintenance and servicing, with NSI GOLD accreditation. Unlike many service providers, we don't sub-contract, so all our experienced and qualified engineers are in-house, benefitting from regular development and training.
As well as core technologies such as fire and intruder alarms, we are also specialists on testing and maintenance of fire extinguishers, CCTV, access control,door entry systems and emergency lighting. 
Electrical contracting forms an important part of our capability too and alongside installation and maintenance we offer complete electrical design services.
Scheduled servicing can reduce the risk of potential faults, identifying and repairing existing faults before they become a problem to help you avoid unnecessary call out charges. 
By using a single company to maintain all your fire safety and security equipment you can eliminate duplication of attendance charges.  All your servicing can be carried out in one visit by the same engineer and having a single account manager means you always deal with a person who is familiar with your business and who understands your needs.
We are confident that we can do this and save money for you too – so confident in fact that we will guarantee a 10% saving on your current fire and security servicing costs*. And that's a small price to pay for total peace of mind that you have a working, compliant system, that is protecting you, your staff and property.
*Terms & conditions apply – contact us for details.
Solar PV annual servicing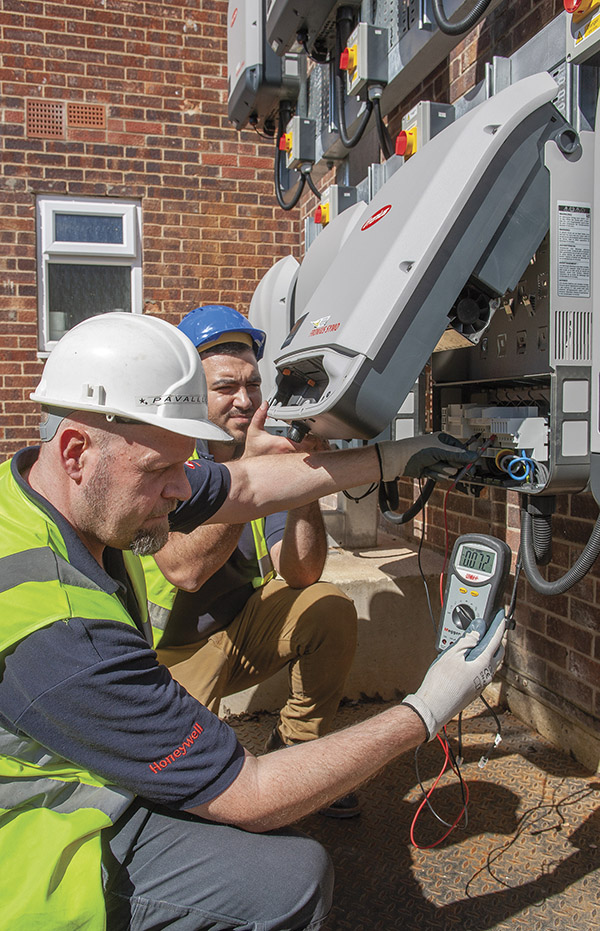 As we come into the peak power generation season we are delighted to be able to offer a 40% DISCOUNT on an annual solar PV service for new clients. The annual service involves extensive checks and measurements but typically includes:
• String tests using a calibrated testing device
• Checking all cabling, routing and condition
 • Operation of all AC & DC isolators in turn to check functioning
• Check inverters
• Clean inverter filters
• Check inverter screen(s) to ensure the expected generation – use a solar irradiation meter.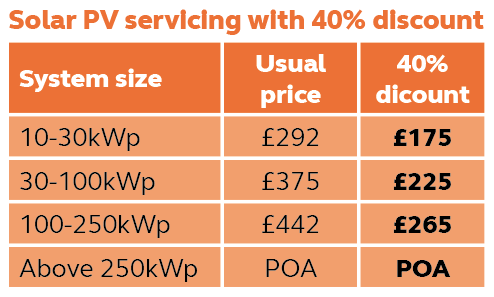 These prices are based on 50 miles/1.5 hour drive time from Devizes. We will happily quote on distances beyond this and sites local to Devizes may incur further discount. Examples above relate to commercial PV systems.  We also offer PV servicing for residential properties and monitoring contracts plus great deals on PV cleaning deals.
Call us for details on 01380 726656.