In today's cost-conscious arable farming environment, speed and precision can make a huge difference to yield and profitability.
When it comes to achieving the most when drilling and planting, our experienced team is always ready to help you find the best specification to meet your targets and address your challenges. We are not just here to sell things, we are standing by to help you grow your business, now and for generations to come.
To help you be sure you are choosing the right kit we can arrange pre-season demonstrations, and with some great finance offers available it's a perfect time to consider the options.  We start the season by looking at two outstanding machinery offerings from Väderstad and Kuhn.
Rapid Tempo from Väderstad
The Väderstad Tempo is a new generation high-speed planter, designed to deliver exceptional precision at double the speed of traditional planters. No-till, min-till or conventional tillage – Tempo performs exceptionally in all conditions.
Traditional planters allow the seed to fall freely through the seed tube from the seed meter down to the soil. When vibrations arise as the speed increases, the seed bounces in the seed tube and much of the precision of the seed meter is lost. The Tempo has a pressurised Gilstring seed metering unit which uses air pressure to maintain full control of the seed all the way down to the soil; removing gravity from the equation means that vibrations or slopes don't affect the precision of the seed metering, so speed is not an issue.
Taking high speed planting to the next level has also involved addressing the issue of skips and doubles. Skips in the rows mean fewer yield-bearing plants at harvest time. However, doubles can be equally detrimental. Plants that are too close together compete for sunlight and nutrients, resulting in uneven maturity and reduced yield. Using Tempo will ensure the same conditions for all plants, with consistent plant spacing resulting in a crop that matures at an even rate and is more likely to yield to full potential.
Excellent in all crops
The small seeds kit, which includes suspended stop wheels and the ability to adjust the angle of the closing wheels, ensures great results when planting small seeded crops, such as oilseed rape and sugar beets. This improves yields and extends the applications of the high-speed planter.
Whatever the crop – maize, sugar beet, soya beans, sunflower, oilseed rape, cotton, sorghum and many more – Tempo can plant a full range with excellent results. The row spacing and machine setup is easy to change for different crops and the result is increased efficiency and minimised machine costs per hectare.
There are five models of Tempo in the range with mounted machines from 4-12 rows and trailed machines from 6-24 rows. All the Tempo models offer a fertiliser option whether mounted to the machine or using the Väderstad FH2220 front hopper.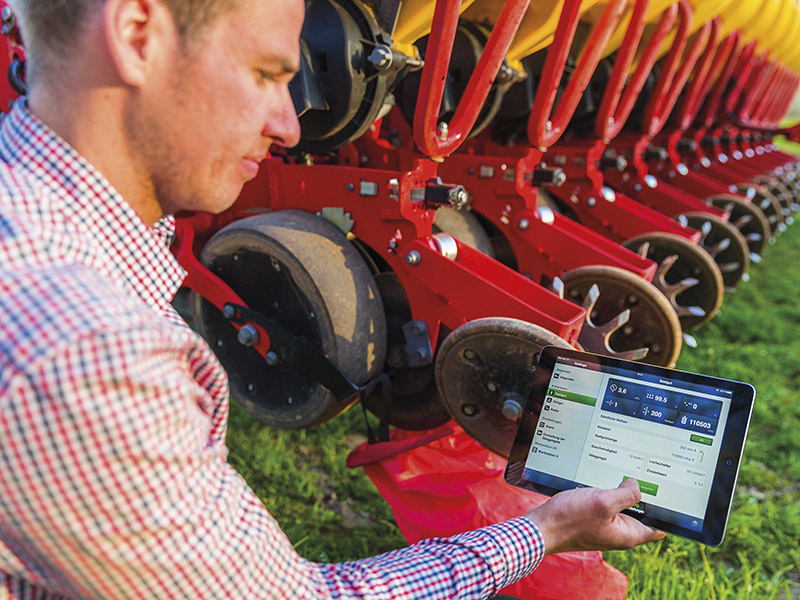 Full control at your fingertips
An iPad-based control system, Väderstad E-Control wirelessly delivers data about each seed that travels through the machine, including seeding quality, skips, doubles, distance in the row, and rate. You benefit from user-friendly remote set up and calibration, as well as easy, real-time monitoring and control.
Kuhn Maxima 3
Kuhn Farm Machinery has launched a new Maxima 3 range generation of precision seed drills. Available in 6 to 12 row versions and capable of drilling maize, sunflower, beetroot, sugar beet, peas, beans, onions and other crops with row spacings from 37.5 to 80 cm, the range comprises 12 models in configurations including telescopic, trailed, foldable and telescopic with adjustable spacing.
The Maxima 3 drill uses an improved seed selection and ejection system which enables accurate seed placement at working speeds of up to 10 km/h. A new coulter pressure system, delivering up to 180 kg of downward pressure also augments seeding accuracy by ensuring consistent depth control. An electrically-driven seed metering system allows application rates to be adjusted manually on the move.
The Maxima 3 can be controlled via Kuhn's intuitive KMS 548 control panel, and is also compatible with Kuhn's Isobus CCI 50 and CCI 1200 terminals, the latter allowing two different control interfaces to be viewed simultaneously on the same screen.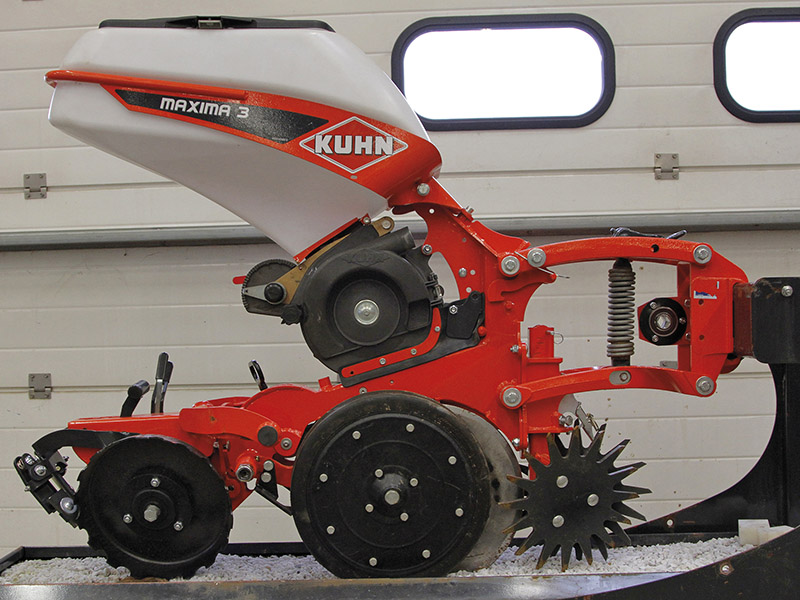 Each of the seeding unit's settings (depth, ground pressure, furrow closing, etc.) can be adjusted easily and quickly by hand and without the need for any specialist tools. This not only makes setting the machine up more efficient, but also cuts time spent on maintenance.  We can also offer growers targeted cultivation solutions using the Kuhn Striger strip tillage cultivator. This incorporates an opening disc which prepares the way for the tine, followed by a star-shaped trash remover, a tine, two deflector discs and a tamping wheel. For improved ground contour adaptation and easier passage in stony conditions, all units have independent non-stop safety features. The tine is also equipped with NSH safety with adjustable pressure ensuring a constant working depth. The inter-row cultivator is designed to increase soil structure, retain humidity and rain infiltration to minimise nutrient run off and increase traffic carrying capacity – an ideal tool to use prior to planting using RTK.
As well as offering targeted cultivation before drilling, the Striger also has the option to apply both granular and liquid fertiliser. There is also the option to incorporate slurry digestant within the cultivated row, decreasing overall production cost and encouraging fast plant growth.
Until 31 March 2019 most Kuhn farm machinery products can be purchased with 0% finance, either 2+22 monthly payments or 1+2 annual payments. Call us now for details of this and other offers.