T H WHITE Agriculture's Demonstration and Precision Farming Support team offers a mix of hands-on product demos together with specialist technical advice. It has now been strengthened by two new recruits to help serve a growing demand for more machine demos, installations and Precision Land Management™ (PLM) & Advanced Farming Systems™ (AFS) set-ups, across even more locations.
Agricultural specialist Mike Quilter is recognised as the team's founding member, having initiated the first phase of demos in 2018, and seeing them consistently well received by customers ever since (some of you may be readers of his regular 'Out on demo with Mike' blog on White's World). Prior to that, Mike spent around ten years working in the T H WHITE workshops at Andoversford and then later at Toddington, getting to know the ins-and-outs of a vast range of machinery. Focusing on demos meant he could answer a growing need, giving potential purchasers the opportunity to get up-close and personal with a machine, experience the features and benefits first-hand, and assess overall performance and suitability before making a commitment.
A typical demo normally involves Mike putting a machine through its paces with the customer, starting off with a full walk-around to introduce the main features. He'll then explain technical systems and answer any specific set-up questions, often operating in a 'live' working environment. Once customer confidence levels rise suitably, the machine is then normally left with the customer to operate independently for an agreed period of time. "Written reports, photographic documentation and feature articles are often required as part of the process, so coupled with the increasing volume of new machinery coming into the market, it was deemed high-time that this very popular service was supported with additional resource and a revised geographical structure", says Mike. 
Mike has performed a considerable number of demos over the last four years – one of the most memorable being an appearance in Ally Hunter Blair's TV show 'Born Mucky: Life On The Farm'. "This involved a New Holland combine and a MacDon header" he recalls. "We spent a day filming in beautiful Ross-on-Wye, cutting soya beans during the first lockdown in 2020. A strange but satisfying experience that I'll never forget!" he adds.
So, as of October this year, Mike has been joined by new team members Tom Keen (demos and installations) and David McLellan (precision farming support), with the aim of providing a more proactive service, over a wider area. Mike will cover the Northern half of the locality, with a focus on specific T H WHITE depots (Toddington, Hereford, Stourport & Warwick), and Tom the Southern half (Marlborough, Knockdown, Frome & Stockbridge). Tom will also offer precision farming support for Marlborough, Frome and Stockbridge. David will cross the locality but will focus more on Knockdown and into South Wales.
Tom Keen joined T H WHITE as an apprentice agricultural technician in 2010 and has never looked back. Having grown up on a farm, he felt the role was tailor made for him, and has strengthened his natural skill-sets over the years by working on a broad range of machines and undertaking some first-class training programmes. In fact, Tom's most recent course was just last month, spending two days with New Holland's technical sales division, brushing up on CR and CX combines and balers. He has also attended in-depth courses with Case IH covering AFS systems, and specialist Manitou MRT telehandler courses at Hartpury College. Now with a schedule brimming with demos, installations and PLM and AFS set-ups – the full spectrum of services his new team has to offer – 2023 looks set to be another successful year for Tom.
David McLellan (better known as Fred) has been part of T H WHITE Agriculture for around 8 years, having spent most of his life in and around the farming industry. He gained his nickname thanks to his exploits on the rugby pitch as a young man – and if you want to know 'why Fred', you'll need to ask him directly! Having operated combines on farms in Australia, New Zealand and the US, he built up a detailed working knowledge of a wide variety of machinery, and was at the forefront of the early GPS systems on his return to the UK in the 1990's. He's currently working on the installation of a full-yield mapping and telematics system, with secondary display, on a New Holland CR9.90 harvester. He joins the team offering high-quality precision farming support in PLM-based systems, as well continuing with his day-to-day technical role.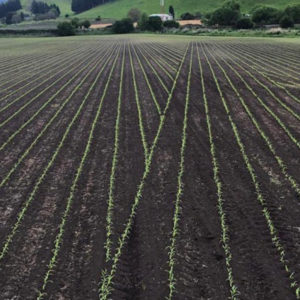 Looking forward to the teams next wave of product demos? Follow Mike, Tom and Fred as they tackle some interesting winter feeder programmes with the aid of some first-rate Kuhn and Kverneland equipment – more details to be announced shortly! 
Contact the T H WHITE Agriculture team to book your specialist product demo or installation today.