With over fifty years in the UK, the German name KUHN has been synonymous with farming innovation, providing a comprehensive range that equips farmers to go further, from crop management to forage production, and livestock to landscape maintenance.
As one of the nation's favourites for Grassland equipment, Kuhn machines drive performance up, are efficient to run and won't let you down.   T H WHITE's well established relationship with this farming stalwart means there is always a great selection of essential kit available from stock when you need it most. Here's a selection of keenly priced items ready to take away today!
NEW STOCK OFFERS
Tedders
Tedding is an important stage in the forage harvesting process because it speeds up drying. Tedding aims to preserve the energy value of the forage and limit any weather risk. KUHN tedders are designed to ensure the best forage distribution in all situations, quickly and evenly. With working widths from 4.20 m to 17.80 m, there is a KUHN tedder to suit your needs and here are a couple immediately available from stock.
GF6502 from £9,300
GF8700 from £14,450
Rakes
KUHN's rake design is well adapted to harvesting and preserving the quality and nutritional value of the forage whilst introducing minimal impurities.  The specific shape of the fork arms ensure a high work output, good swath formation and exceptional reliability.
We have GA8131 Twin Rotor Rakes in stock from £24,950.  This rake delivers central swaths where grass is raked across a width of 7.70 m to 9.30 m and supported by a unique KUHN Masterdrive gearbox, making it ideal for intensive operations.
Mowers / Mower Conditioners
Kuhn is continuously developing innovative mowing solutions. The design of the KUHN mower range takes into account forage quality requirements, operating comfort, productivity, safety and reliability whilst reducing maintenance costs.  We have great stock deals on mowers and mower conditioners:
Merge Maxx 1090 from £69,550.
FC3125 from £17,650
FC314D from £16.450,
FC9530D from £46,600
GMD4411 from £16,050
ONE-OFF DEALS ON USED MACHINES
FC314D Mower Conditioner offered for just £5,850
GMD3511 Mower for £6,450
GF10812T Tedder only £14,750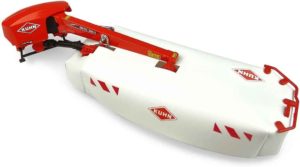 All prices from stock, quoted are exclusive of VAT.