Ever tighter restrictions on herbicides mean that farmers are increasingly seeking other means of suppressing weeds in crops. Organic methods are not always an effective solution for larger scale farming, so mechanical weed control using the latest design and technology is the clever option.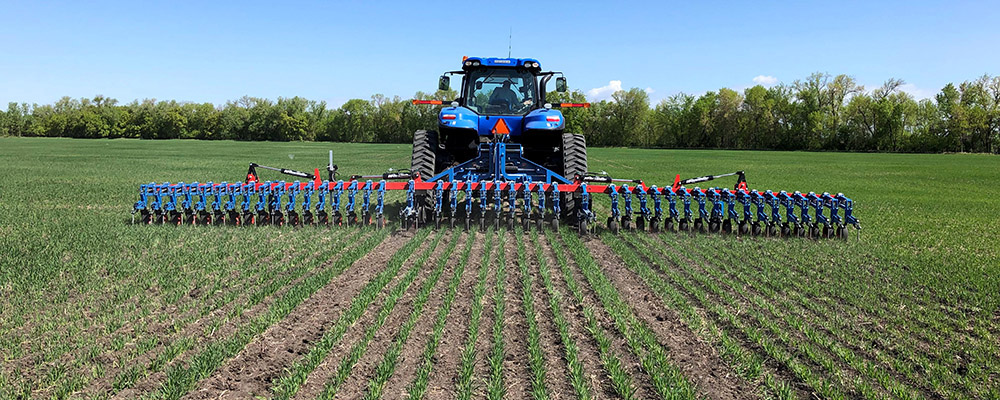 One of the best high-end inter-row cultivators is the Austrian-built Hatzenbichler, now being made available in the UK by Opico. These rigid or hydraulic foldable implements can be rear or front-mounted and feature a special vibe-tine which can be fitted with a variety of shares to cut off the weeds just below the surface for best weed control between the plants. Almost any crop with adequate space between the rows can be tackled.
The configurations of the Opico Hatzenbichler inter-row cultivator are virtually limitless, covering a wide variety of crops including sugar beet and maize, 2.5m to 18m working widths and 4 to 72 rows. Because no two applications are exactly the same and, with so many options available, Opico operates a special purchase process to ensure that you receive exactly the machine that you need.
It begins with a farm visit to understand the needs and any issues such as the crop type, soil type, how the crop is grown, as well as how high tech or low tech a solution is being sought. After this, a proposal is prepared recommending headstock type, share type, guidance system and other installation options. Once the bespoke specification is agreed, OPICO works closely with the factory to deliver and then install and support the machine.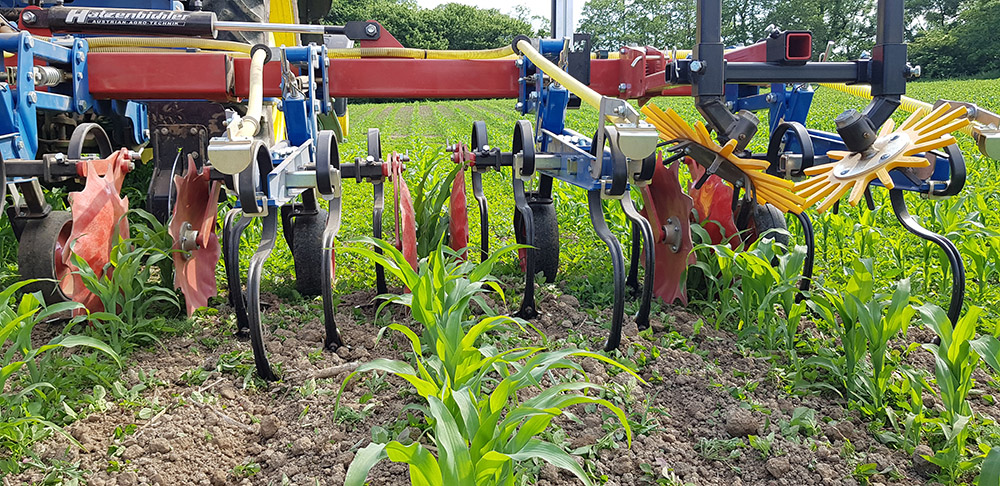 In use, the Opico Hatzenbichler inter-row cultivator is in a league of its own. Parallelogram mounting frames for the hoe carriers maintain pre-set working angles and pressure whilst allowing accurate ground contour following. The box section parallelograms prevent any twisting in work.
Different numbers of shares are fitted to the hoe carriers depending on row widths and crop types. For example, in cereal crops three rows are hoed per carrier, with a minimum row spacing of 12.5cm.
To make mechanical weed control viable for larger scale farming Opico has collaborated with UK camera guidance specialists Tillet & Hague to offer the most accurate camera guidance system on the market. This is able to take a feed from two or more cameras, resulting in a high degree of accuracy, especially at row ends where there may be drill misses or overlaps, making it possible to cover extensive acreages in one working day. Spot spraying technology can be attached to the cultivator if required.
They say that seeing is believing, so why not see for yourself just what is possible with this remarkable inter-row cultivator. Contact your T H WHITE rep to request you own demo, or arrange it online at www.thwhiteagriculture.co.uk/get-in-touch/