We have a wide range of New Holland Balers in stock to support your Harvest.  Here's a quick round up of our favourites
THE PROBELT
Did you know the New Holland Pro-Belt Baler is the new all-around performer in the field?  Here's why…
It offers increased capacity, with the standard 1000rpm twin-drive gearbox
Its simplified and redesigned bale chamber produces perfectly uniform and dense bales
It provides high efficiency with its ActiveDropfloor continuous baling
Its easy to use with standard ISOBUS and offers an optional IntelliBale feature.
Watch the ProBelt in action – the latest in round baler development focusing on simplicity and durability: https://www.facebook.com/THWhiteagri/videos/1302720547262583
Give it a go!
THE ROLL BELT
Bringing Harvest home, New Holland has led the Roll-Belt baler segment for over 25 years and has introduced a string of pioneering firsts that have revolutionised the way variable chamber balers operate today.
The Roll-Belt range is set to redefine round baling with advanced roll-belt technology that can improve capacity by up to 20% and density by up to 5%.  Each New Holland Roll Belt baler offers:
Redesigned pick up with boosted capacity
Different crop processing options to suit your individual requirements. The SuperFeed™ option enables straight through processing, to maintain long unbroken straw. CropCutter™ models guarantee super fine chopping for the densest, most nutritious silage bales producing the highest bale quality
Variable chamber technology meaning operations can vary the size of the bale produced in 5cm increments, from 90cm right up to 150 or 180cm to enhance baling flexibility.
An updated wrapping system
Manage all baling parameters from the comfort of your cab with a choice of monitors from the entry level Bale Command™ Plus II monitor to the range topping IntelliView™ IV colour touchscreen monitor
Plus ease of ownership with accessible service points
Get baling!
THE ROLL BALER COMBI
With its fixed chamber, higher strength roller design and wide pick up of 2.3m, this combi is a gem.  It's repeatedly quoted as the best choice of fixed chamber baling on offer for livestock farm and contract operators.  The unit is able to use both net or film to bind the bale, before transferring to the film wrapping table.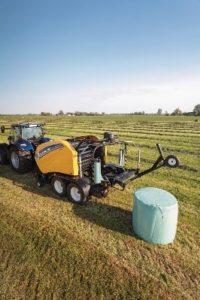 Supports of the 'film & film' bale binding method claim its benefits are game changing – providing a much better oxygen barrier, easy film removal, less waste, easier recycling and, vitally, enhanced silage quality – including a good reduction in silage mould.
A study conducted on a commercial English farm observed the following results:
– 7.5% less dry matter losses on 'film & film' bales compared to 'net-wrap' bales due to an enhanced fermentation process and 80% less dry matter due to mould formation on the bale.
– An overall 52% reduction in dry matter losses compared to 'net-wrap' bales.
BIG BALERS 890 & 1290
When it comes to big square balers, the New Holland BigBaler range enables you to pick the baler that's right for your business – from the standard 80x70cm model right through to the largest 120x90cm variant. And we've the 890 and 1290 in stock right now for you to take away!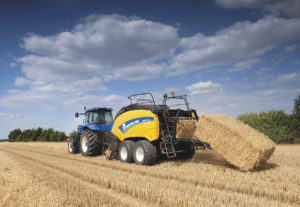 You can specify the crop processing method, standard, Packer Cutter or CropCutter™ – confident that these balers produce bales with a 10% higher density, or if you select the top-of-the-range BigBaler 1290 High Density, it will produce bales up to 22% more dense than standard conventional balers.  Fitted with Loop Master™ knotting technology, the BigBaler 1290 builds on the brand's renowned double knotting system with a loop style second knot proven to be significantly stronger than a standard knot, resulting in increased overall tensile strength for reduced breakages and eliminating twine offcuts!
What's more, for a limited period only we are offering enhanced 0% finance on large square balers (1 + 3 @ 0%) based upon 50% of list price, for new retail contracts delivered by 30th June 2023.
We have stock in shed now, of all the above models to get you up and running with all your baler needs this season.  Get in touch with your T H WHITE rep today to discuss your needs and secure a great deal.