Unique to Honda is the latest DCT (Dual Clutch Technology) automatic transmission, found here on the 2020 TRX420 and 520 FA Models.
Where CVT (belt drive) transmissions dominate among the competition, Honda offers a more traditional mechanical gearbox but with automatic and  electric shifting. This provides a controllable  rider experience with greater flexibility,  precision and better fuel economy!
With two shift modes available, there is the choice of  changing gear via two up and down buttons on the left handlebar, for individual gear changes from 1st to 5th. This enables a gear to be held – while heavy towing for example – or for constant speed driving when slug pelleting or spraying. Where this level of control isn't so important, auto mode can be selected and the system takes over.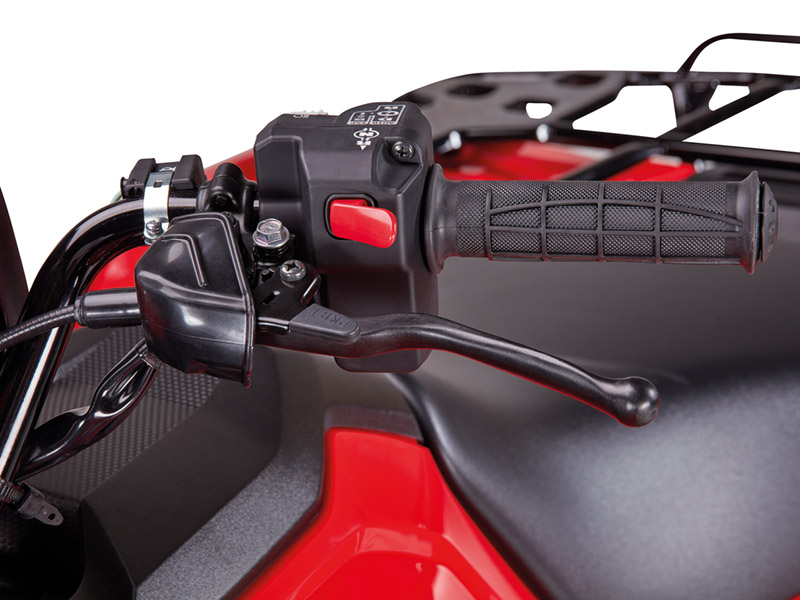 The ECU mapping has been newly fine-tuned to deliver well timed, smoother changes and it will automatically change down when you come to rest, to stop and open a gate for example. It's also possible to override to manual shift when in auto – at the bottom of a hill if needed – afterwards the gearbox will then revert back to automatic. Best of all (for those familiar with Honda through the years) is the new reverse 'Skip Switch' which allows you to select reverse instantly at speeds of 3mph or less. In practice this is effortless, intuitive and fast.
The TRX420 Fourtrax is the more compact of the two models here, smaller in stature than the mighty 520 with lower seat height, making it very easy to hop on and off. It makes it the absolutely ideal ATV for running around livestock, a shoot, stable yards or a smallholding. Towing capacity is 385kg with independent rear suspension, hydraulic disc brakes, two and four wheel drive select. Performance is very punchy and light power steering is fitted as standard.
Step up to the range topping TRX520 Foreman and you have an ATV that delivers everything you could possibly want in one package. A powerful, smooth 518cc fuel injected engine, towing capacity of 600kg, rear rack capacity rated to 85kg, power steering, independent suspension, hydraulic disc brakes, two and four wheel drive and high/low range with difflock. It drives beautifully and, while not as powerful as its bigger engined rivals, it is very refined and rider-friendly, especially at low working speeds with good engine braking.
When towing, the firm independent suspension provides excellent levels of grip with none of the 'wallowing' often found with this kind of set up.
Choosing between the 420 and 520 is not difficult. Base your decision  on rider height comfort, what you'll use it for most and how often. These models generally sell themselves, but our TH WHITE ATV specialists are always on hand to assist with a demonstration and more detailed guidance and pricing.
To find out more please contact Tim Rochfort  on 07973 911934, or Callum Rea on 07860 712963.