The Marketing Team recently caught up with newly promoted Area Sales Manager Ryan Long to discuss his progression at T H WHITE Energy Fire & Security (EFS) since joining the team in 2019.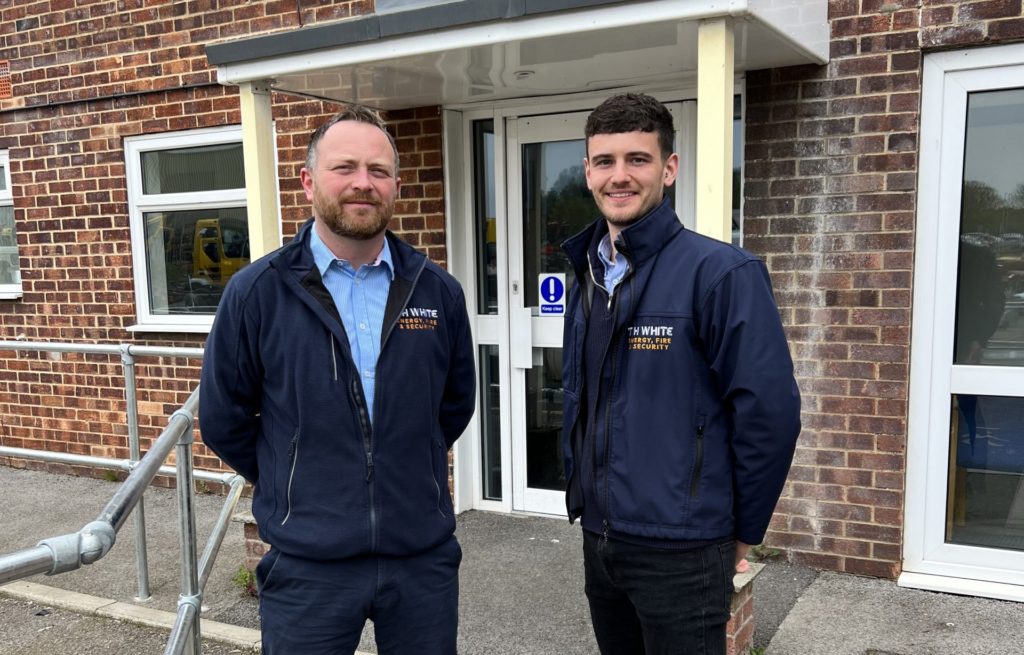 Mark Harlow – Operations Manager (Left) Ryan Long – Area Sales Manager (Right)
Ryan's journey started 8 years ago when he took up a position at another firm working on installing, servicing, and maintaining alarm systems and learned all the basics whilst working on call-outs and breakdowns. Having made a move to EFS as an installation Engineer in 2019, just before the COVID-19 outbreak, Ryan was keen to explore the training that was made available and has since been on a wide array of courses ranging from driving courses, IPAF, Pasma as well as a number of manufacturer courses for brands such as Texecom, and FIA Fire alarm systems.
With this added knowledge Ryan moved more into the commissioning side of the installation process as he was able to work with customers to design, install, programme and hand over the bespoke systems created to individual customer's requirements. Ryan goes on to state that "I really enjoy this part of my role, being able to work directly with customers to figure out what they require and then working towards delivering this.  It is really rewarding".
This experience and added responsibility provided Ryan with the desire to seek further progression opportunities away from the installation of multi-disciplined systems, and to be far more involved in the sales and design process, so when the Area Sales Manager role came up within the team, Ryan jumped at the chance.
Starting this new role in March, Ryan is responsible for looking after customers based north of the M4.  He was fortunate enough to be able to spend the first three weeks of his new role shadowing the outgoing Area Sales Manager, allowing him to meet as many customers as possible in that time, and receiving a full handover of all jobs and quotes that were ongoing. Taking the reigns solely throughout April, Ryan is relishing the opportunity and is fully integrated into what he calls his weekly routine, from quote generation, site visits and new business development.

Over the next year Ryan has set himself some work-related personal goals: "I hope to meet and maintain the needs and expectations of our existing customers, whilst also developing new relationships and projects. I'd also like to get more involved in social media, working with the Marketing Team to help promote some of the fantastic systems we install such as the Ajax wireless intruder alarm, because of the ease of installation and how user-friendly the system is. Being an app-based alarm system users are able to set the alarm remotely, and can check its status when away from the property or site".
We then asked Ryan a few questions about himself to help get to know him better.  When he's not at work he spends a lot of his time either playing football, coaching his son's under 9's team, or attending to his wife and daughter's two horses.
We would like to congratulate Ryan on his development within T H WHITE and wish him the best of luck with his new role.  To contact Ryan call 07833 480212 or email ryan.long@thwhite.co.uk.