Success in the challenging dairy farming sector relies increasingly on new technologies to maximise milk yield, herd health and profitability. The latest innovations from DeLaval, the pioneer and market leader in dairy automation, will now help farmers to achieve more than ever before.
Topping the list of DeLaval's new introductions are the OptiDuo™ robotic feed pusher, the new V300 Voluntary Milking System (VMS), plus the latest software to help you manage and control your dairy business, even when you are on the move.
OptiDuo feed pusher
The first DeLaval OptiDuo in the UK has been supplied by T H WHITE and commissioned at Oldbury Farm near Frampton on Severn, Gloucestershire, where David Merrett has a herd of 125 cows.
The OptiDuo is a new robotic feed pusher with a twin-spiralled rotating auger which allows feed to be remixed and repositioned without damaging or crushing the roughage and then pushes it closer to the feeding rail, giving the cows constant access to the refreshed feed.
Following a guidance cable buried in the yard surface, the OptiDuo can be programmed to work around the clock, meaning that cows have access to feed 24 hours a day. This allows heifers and lower ranked cows the same opportunity to feed, with less stress and competition from dominant cows in the herd, which in turn leads to higher intakes and more milk in the tank. Different settings can be made for different groups, for example lactating cow feed or youngstock feed.
DeLaval calculates that with the OptiDuo feed intake can be increased by up to 10 per cent with less wastage, providing the cows with a well-mixed diet to help to ensure maximum dry matter intake and minimise feed sorting. The cows can then spend more time resting and ruminating.
V300 VMS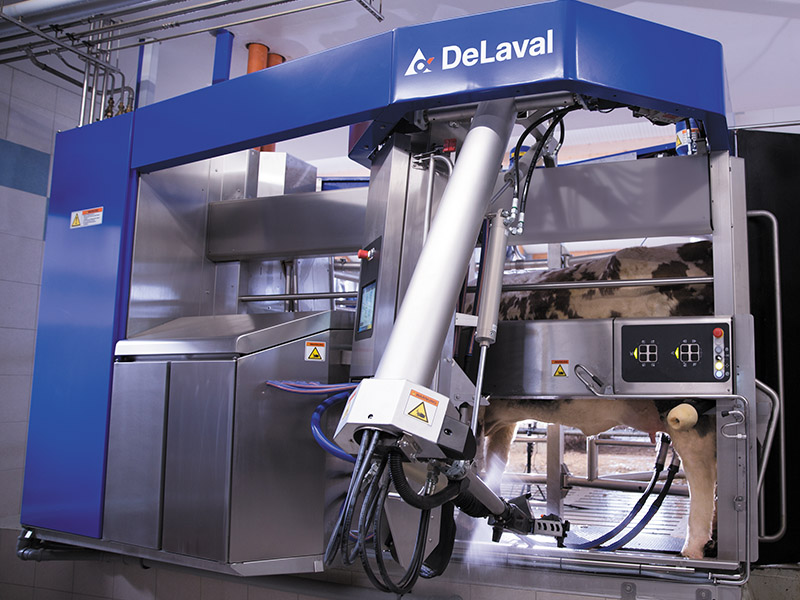 When the DeLaval Voluntary Milking System (VMS) first appeared 20 years ago it revolutionised the way in which dairy farmers could manage their business. Allowing cows to be milked as and when they want, at the same time monitoring the milking cycle for each animal, its health and the yield, meant that very close herd control could be exercised, at the same time freeing the farmer and his employees from the rigours of set milking times to enjoy more normal working hours and a better family life.
Since then DeLaval has continually developed, modified and improved its VMS, adding the OCC™ cell counting system, Herd Navigator™ software and a new model in 2015 including the Body Condition Scoring (BCS) camera.
Now we have the new DeLaval VMS V300 incorporating a host of improvements that will enable farmers to do more with less. At the heart of the system is the milking arm – which in many ways replicates actions of the human arm. New software and the highest ever quality camera assess the best and most accurate way to attach the teat cups. The system learns and adapts to each individual udder, memorising the settings and resulting in attachment rates of 99.8 per cent, taking away the need to teach the machine manually with the entry of each new cow.
Attachment of teat cups is 50 per cent faster than the previous model, milking capacity is up by 10 per cent to a potential 3,500kg of milk a day, yet running costs are lower. The integrated DeLaval InSight™ system is able to find the teat fast and accurately, giving the cow a stress-free and relaxed experience.
A major advance is in teat spraying. The V300 is fitted with the DeLaval PureFlow™ system which cleans each teat individually with a 99 per cent teat spray hit rate. Increased stimulation from the PureFlow system also results in a 15 per cent higher milk flow. A new user interface – the DeLaval InControl™ mobile app – allows for remote control of the system as well as access to information.
Stay in control on the move
Alongside the V300, DeLaval has launched a new edition of its DelPro integrated farm management software, together with an associated app, DelPro Companion. Working in unison, these monitor your herd's well-being 24-hours a day, bringing together the data needed to make decisions relating to performance, feeding, health, milking and reproduction. Being able to view all this in one tidy application for a mobile device allows you to maintain complete control of your farm and your herd from literally anywhere in the world.
Key benefits of the DelPro platform include:
Animal Welfare: DelPro has the ability to identify an animal becoming ill at an early stage so you can prevent her and other cows in the herd from becoming really sick.
Food Safety: You have full control over your cows feed ration throughout the different states of lactation. With DelPro you can set a controlled strategy for each cow and implement it for differing days in milk, production level, or lactation number.  The system can also divert milk automatically in a given milking cycle.
Profitability: A closer focus on animal health drives productivity. DelPro helps to align efficient feeding with reproduction goals and expected yields. Each cow is treated as an individual with a focus on milking permission to help her meet her potential.
Work efficiency: DelPro manages work flows to ensure efficient performance.  It allows you to analyse milk production and reproduction data to explore the effect on monthly production levels through these changes. The interface is easy to navigate with comprehensive downloadable reports.
DelPro Companion is available to download from Google Play or Apple's App Store.
T H WHITE Dairy Manager Nigel Ellis is ready to tell you more about all the exciting developments from DeLaval. Call him on 01373 465941, or email nigel.ellis@thwhite.co.uk.