T H WHITE's new Used Machinery app is now available for free download in the App Store and will also be available shortly for Android devices.
For customers, the App provides a quick and easy overview of used machinery available from T H WHITE. We are starting with listings for Agriculture, and other areas such as Dairy and Construction will be rolled out over coming months. Within each category it's easy to navigate to individual items and you then have the option of downloading more detailed information as a PDF or sharing the listing to other devices or colleagues. Once downloaded to your smartphone or tablet, the App allows you to continue with offine browsing even when you are remote from a WiFi connection.
The integrated Trade-In Package allows T H WHITE salesmen to catalogue equipment directly on their tablets for trade-in while offine at the farm, taking pictures and uploading specifications for speedier sharing with customers. A Handover Package also allows sales representatives to create standardised machine handover documentation, as well as cataloguing handover dates, customer signatures and times.
The new App is a great way to keep in touch with what's available at all times. To download the iOS App just scan the QR code on this page (you will need a QR scanner on your iPhone or iPad), or go to https://itunes.apple.com/us/app/t-h-white-machinery/id1151428988?ls=1&mt=8 .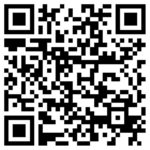 The link for Android devices will be published in White's World shortly.