As colder weather approaches be ready with our professional, stainless steel LOGIC road/rock salt gritters.
Choose either towed or deck mounted configurations, from a variety of models such as the wheel-driven 270ltr GDS 150, suitable for towing behind an ATV, compact tractor or UTV.
The GDS Salt Spreader uses a moving-floor conveyor system similar to highway-sized salt spreaders to deliver the salt to the spinning disc system. The hopper will hold 270 litres (approx. 335kg) of road/rock salt and is capable of spreading all types of material, including wet rock salt, grit and sand. A unique agitation system and conveyor floor ensures wet or dry material can be spread effectively and accurately by a spinning disc. Working speeds of up to 15mph and road speeds between sites of up to 30mph mean wide areas can be covered quickly and efficiently. Road and non-road versions are available with prices starting from £5,930 plus vat.
The deck-mounted PDS150D, (suitable for applicable UTVs) is powered by a Honda engine and is ideal for roads, pathways, city centres, cycle routes, car parks etc. At a spreading rate of 10g/m2, on a road 3m wide, 11km can be covered with one load. Prices start from £6,795 plus vat.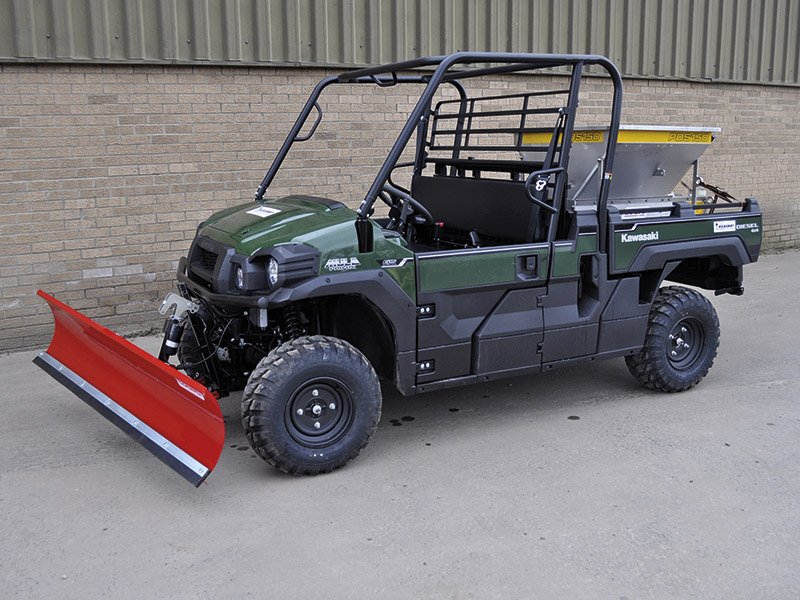 Additional models are also available – forklift-mounted or to fit to a tractor 3-point linkage.
For all the details please contact T H WHITE Agriculture or Groundcare: Tim Rochfort on 07973 911934; Simon Knight on 07860 912763; or Stuart Fry on 07774 212926.