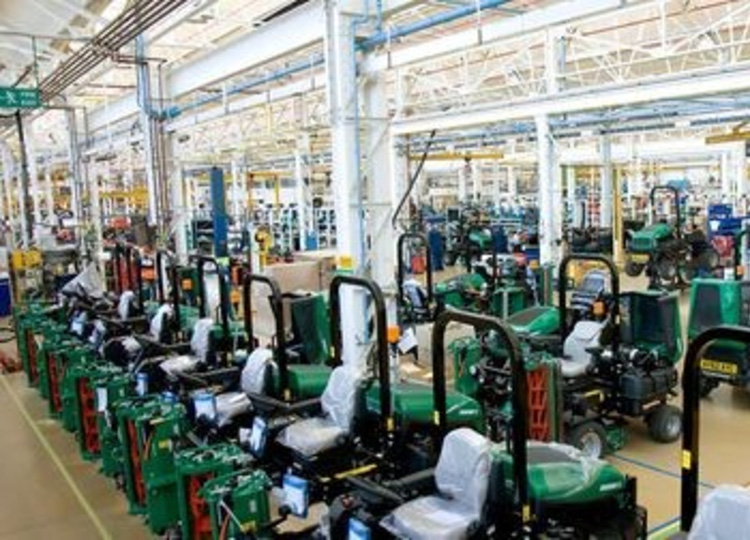 The T H WHITE Groundcare sales team took an opportunity to hold one of its regular meetings at the Global HQ and manufacturing facilities of Ransomes Jacobsen in Ipswich, Suffolk, earlier in May.
The meeting was a 'game of two halves' which on day one saw the team review the T H WHITE business, discuss new opportunities and look at the supply challenges that are being faced in the sector.  On the second day the team were joined by senior members of the Ransomes Jacobsen management team including Simon Rainger, Global VP for Turf Care Products and Glen Hampson, Sales Director EMEA, Turf Care Products.
During the meeting, the Ransomes Jacobsen team was able to share information on product updates and some exciting sneak previews on the progress they are making with electrification in the sector – watch this space!
Discussions also took place on the steps the company is taking to deliver greater customer satisfaction with a dedicated team of people who will track and follow up the user experience of the products. There was time to look around the factory to get a close look at what Ransomes Jacobsen has done over the past 24 months since manufacturing of Jacobsen products was transferred from Augusta in the USA to Ipswich. The continued challenges of component supply that is impacting global manufacturing is being managed with intensity to ensure that products continue to roll off the production line as efficiently as possible.
The T H WHITE team concluded its visit to Ransomes Jacobsen with a positive outlook for what the future holds. We can't wait to get our hands on the new products that we hope to be able to present to our customers soon…