On the banks of the Moray Firth, near the mouth of the famous River Spey, is the Crisp Malting Plant at Portgordon which was originally constructed and commissioned in the early 1980s.
As these maltings are located in the heartland of the Scottish whisky distilling industry, it's perhaps not surprising that the focus for Portgordon is on the production of quality malt for the numerous distilleries in the region. Locally grown malting barley is sourced from Morayshire, Banffshire and Aberdeenshire to feed the malting plant.
T H WHITE has a long-established relationship with the Crisp Malting Group which has several other malting facilities in the UK and has been producing malt since 1870. A couple of years ago T H WHITE installed a new pelleting plant at the Crisp Malting site in Alloa and the Projects Division is currently undertaking work at the group's site at Great Ryburgh, Norfolk.
This year in Scotland the Projects team has been actively involved in Portgordon's upgrade and expansion programme. Some additional malt storage has been installed and T H WHITE Projects has also acted as the Principal Designer for the Mechanical and Electrical contract, working closely with the appointed civil contractor.
This new investment by the Crisp Malting Group has made possible the construction of three 445-tonne, 8m diameter hopper-bottom corrugated steel silos with 45 degree cones, as well as two 1,200-tonne , 13m diameter flat bottom steel silos. Replacement conveyors and elevators have also been installed, together with handling equipment for the new silos which are rated at 50tph of malt.
Commissioning and hand-over to the client was successfully completed in July .
A second project is currently being installed at the Frontier Grain Store in Newmachar, Aberdeenshire. Frontier is one of the UK's leading grain trading organisations, enjoying strong relationships with both its farmers and grain buyers. Of the numerous UK sites owned by Frontier, the facility at Newmachar has recently benefitted from investment, with a second Alvan Blanch horizontal flatbed drier rated at 53tph on feed barley being installed during the summer months for commissioning in September.
T H WHITE Projects was awarded the mechanical and electrical contract to design, supply & install the new drying and associated 60tph handling system at the Grain Store, whilst working closely with the local civil engineering contractor.
As the Principal Designer for the project, T H WHITE was also requested to include two new 150 tonne, 5m diameter, wet holding hopper-bottom silos. These function in conjunction with the new drier to ensure flexibility of process.
Elsewhere in the region two other key T H WHITE customers are preparing for the forthcoming harvest with plants designed and constructed by the Projects Division in recent years.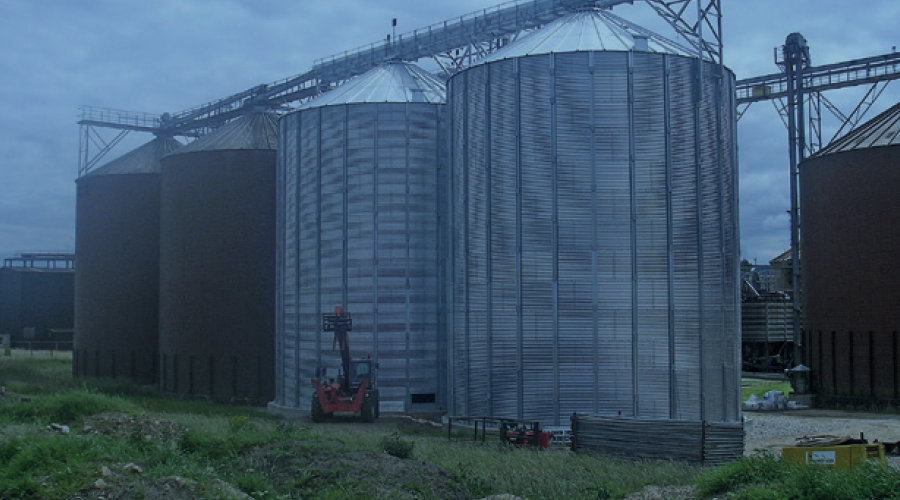 Crisp Malting Group, Portgordon
Aberdeen Grain, a large Scottish grain co-operative organisation, used T H WHITE's services to increase the on-site intake, wet holding, grain drying and storage capacity. This included an additional 400tph intake capability with rapid tailgate discharge, plus 1,500 tonnes of wet holding capacity in three hopper-bottom silos. In conjunction with the infeed arrangement, a pre cleaning and drying system was also designed to handle the high volumes of malting barley which are routinely processed and stored in the plant.
With a new flat-storage building and a further set of flat-bottomed silos currently being installed, Aberdeen Grain is very well equipped to cope with future harvests.
In the east coast Port of Montrose, near the mouth of the River Esk, another T H WHITE Projects installation has been carried out for Angus Cereals. This quayside grain store is owned by a farmer membership, and is strategically located, with excellent road and rail links, bringing added value to the supply chain.
Constructed by T H WHITE in two phases, the current on-site storage capacity surpasses 40,000 tonnes with plans to add a further 36,000 tonnes as a future expansion. Its 200tph intakes, wet grain holding hopper silos three high capacity mains gas-fired grain driers, segregated bunker flat storage and flat-bottom silo storage, make it a very functional and flexible facility able to meet operational demands.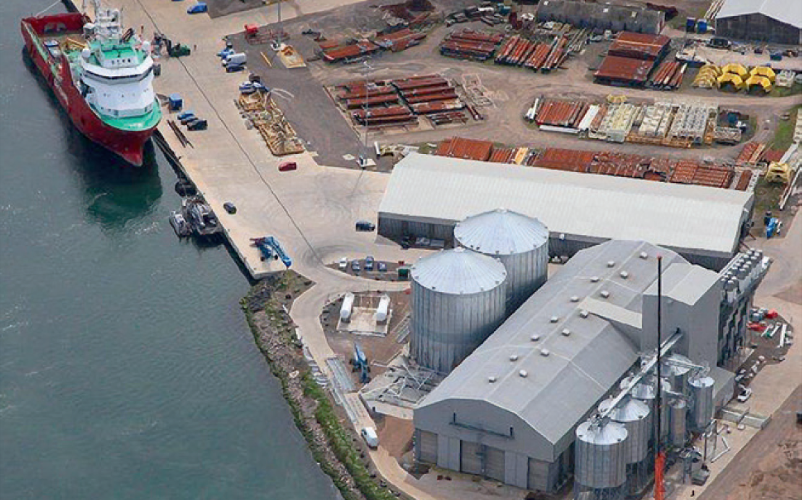 Angus Cereals, Montrose
With these new projects and other sites in Scotland, T H WHITE is very well represented north of the border with some excellent credentials.
T H WHITE Projects specialises in grain processing and storage solutions of all sizes, from small farm installations to large commercial and industrial bulk facilities, taking each project from conception to completion. If you have a scheme you would like to talk about , please do contact us on 01380 723040 or email projects@thwhite.co.uk