Although heritage sites are closed during the lockdown, the grass hasn't stopped growing and some degree of maintenance must continue.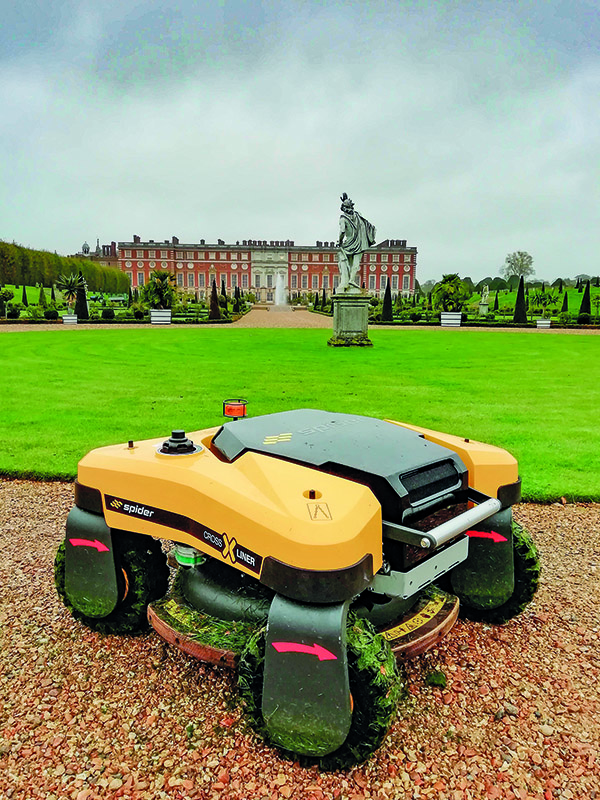 A case in point is Hampton Court Palace where the superb formal gardens are a credit to the grounds team. The extensive grassed areas include several manicured slopes which recently provided an opportunity for the new Spider X-Liner (pronounced Cross Liner) to demonstrate what it can do.
The X-Liner is the latest and smallest remote-controlled mower from Spider. With an integrated winch and ability to mow on slopes up to 55 degrees, the Cross Liner represents a unique combination of high performance and user-friendliness –  just like the other professional Spider mowers, but smaller.
At Hampton Court the X-Liner was equally at home on the slopes and flat areas, combing a 25.5in cutting width with extreme manoeuvrability. Skid-steering and a unique 4-wheel drive system allows it to turn around its vertical axis, eliminating the need to turn the mower manually. 
The demonstration impressed those at Hampton Court. If you would like to see the X-Liner in action for yourself we can arrange a demo subject to the current precautions. Just call Bill Johnston on 07850 384530.