One of the many challenges faced by landscaping contractors is how to maintain dangerous or challenging areas of grass safely and effectively. Large sloping banks are commonplace around landscaped housing estates, heritage sites and sports fields, whilst waterway banks and busy roadsides prove problematic for operator safety too.
The Spider mower is the ideal machine for all these environments. Capable of being operated remotely from a distance of up to 100m, the Spider mower offers the safest solution in the market, keeping operators away from harm, noise, dust and with no vibration either.
With four-wheel-drive and four-wheel-steer, the Spider is the only slope mower available with wheels instead of tracks, which makes it highly manoeuvrable, simple to use and lightweight. The lightness of the machine helps to avoid erosion and land slippage on slopes, wet or soft ground, or protected areas, whilst also ensuring a clean surface with no track marks left and a fine mulch clip from the premium mulching system under the deck. The cutting deck has also received certification for it's thrown object safety – designed in a way which prevents debris being thrown from under the machine and thus making it very safe to use in public spaces, alongside roads, railway tracks or even around solar panel farms.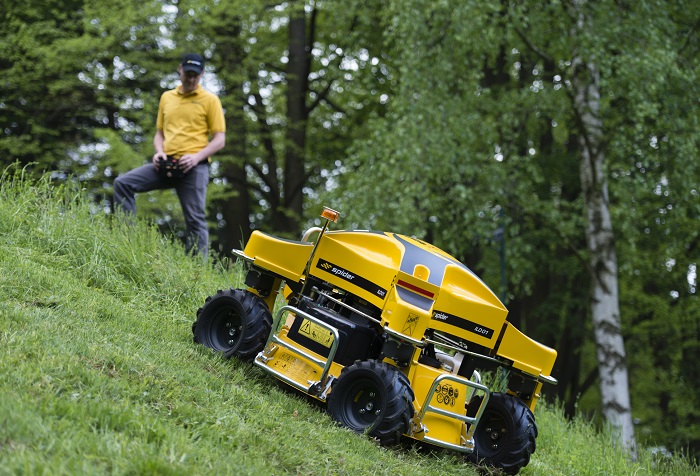 Spider mowers can operate on slopes up to 55 degrees using a built-in hydraulic winch, or 40 degrees unaided, proving unmatched on sloping ground such as alongside motorways, river banks, heritage sites and more.
The unique steering system from Spider works in a similar way to a drone – with a dedicated 'front' but the ability to move in any direction, 360 degrees, at the push of a remote handset lever. This makes mowing fast and efficient, especially when moving around obstacles and with no need to turn the machine at the end of a run – simply move sideways and pull the joystick backwards to bring the mower back toward you for the next pass.
We welcome you to try a Spider mower for yourself and experience the ease and speed of remote controlled mowing – simply visit www.spidermower.co.uk to learn more and request a contact-free demonstration now.