The latest-generation rotary milking system from DeLaval, the E100, is not just a rotary, but a full system with more information, more automation, more functions and more technology than ever before. Above all, it has been designed so that one person can operate everything safely, comfortably and easily, from a central point.
Building on years of experience with rotary milking systems, DeLaval has designed the new E100 to create a better, safer, calmer and more productive experience for you, your cows and anyone who works on your farm.
Featuring easy entry and easy exit for cows, TopFlow clusters that can milk up to 15 litres per minute, plus DeLaval's special design of comfort bail, the Rotary E100 is operated from a 'cockpit' where all aspects can be monitored and controlled via the DelPro platform and touch-screen.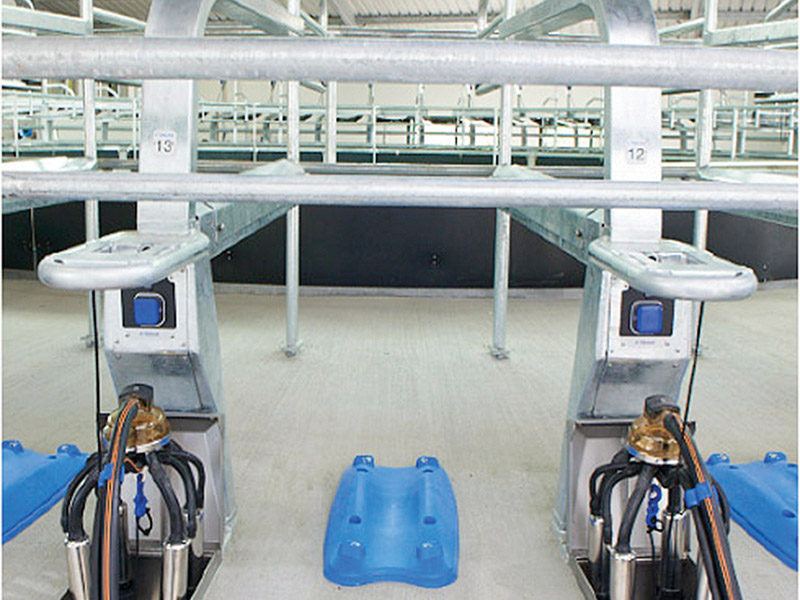 Unique to the E100, the ComfortBail is fundamental to maintaining efficiency as well as a calm milking environment for the cow. All the necessary wires, pipes and technology are integrated within the bail, thus ensuring clearer lines of visibility for worker and cow, easier, safer access for the milker, and a more consistent approach to the task of getting cows on, milked and gone, quickly and without stress. The design also ensures that the cows present ready for milking in a position that makes attachment faster and simpler, while four individual teat spray nozzles provide accurate coverage seconds after cluster removal.
DeLaval's FastLane entry bridge ensures that the cows move as quickly, calmly and efficiently as possible, enabling the operator to select either single cow entry or a one and a half cow entry lane to optimise the number of cows per hour of milking. The wide exit lane incorporates a funnel enabling multiple cows to exit the milking parlour, thus reducing the number of inactive milking points and increasing throughput without creating platform stoppages.
With herd sizes increasing, it all adds up to milking more cows more efficiently with fewer labour hours and less hassle.
T H WHITE can not only supply and install the new DeLaval E100 – plus a building and all associated works to house it in if required – but once it's in production we can provide all the support and service you will need to maximise the profitability of your dairy operation.
Get all the facts by calling any of our Dairy branches, or talk to T H WHITE Dairy Manager Nigel Ellis on 01373 465941, email nigel.ellis@thwhite.co.uk.