T H WHITE has made a significant investment in a larger, modern facility for our Groundcare division at the Stockbridge dealership. We have transferred our business from premises we had outgrown near Reading to the new facility and the expanded premises will enable us to deliver an even higher quality of sales and service support to our Groundcare division customers in the southern counties.
That development includes a brand new workshop fitted out with all the latest equipment – PLUS a state-of-the-art parts facility. The premises are outstanding, but the backbone of our operation is provided by the dedicated and skilled staff – sales representatives, technicians and parts advisors. They are as well-oiled as the equipment, and what they don't know about groundcare machinery isn't worth knowing!
Easily accessed from the M3 and A34, our Stockbridge branch now has much more space, enabling us to display many items from our huge range of mowers, compact tractors, golf cars, UTVs, aeration equipment, hedge cutters, scarifiers, chippers and more… We also have lots of demo kit available which we can bring to your premises. Our machinery comes from leading and trusted industry suppliers including Ransomes Jacobsen, Iseki, New Holland, Wiedenmann, Amazone, Hardi, Wessex, McConnel, Ferris, E-Z-GO, Jensen, Honda and Kawasaki. Service is at the heart of what we do and the Stockbridge workshop benefits from a larger service team led by Senior Service Manager Andrew Hannington and working foreman Mike Sims. With competencies in both agricultural and groundcare machinery, there is nothing too challenging for our workshop.
We support our main franchises with the latest machinery software and testing equipment, but beyond that we will service machinery of literally any make, any model and any age. To bring real peace of mind to groundcare equipment users, all work is carried out by fully equipped, mobile, factory-trained service engineers. Our seasonal servicing programme includes filters, oils, batteries, belts, and tyres, plus regular health checks.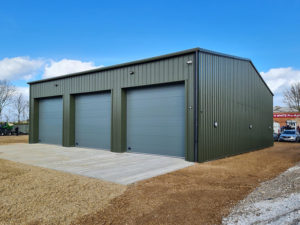 On the parts front we have installed the latest Kardex parts system which enables the storage of literally thousands of genuine parts, any of which can be picked and retrieved almost instantly. This means that if you place an order AM, we post PM for next day delivery. Our major investment in the new Groundcare division facility at Stockbridge has been designed to deliver an excellent customer experience that will save you time and money.
We would love to welcome you. We are at Windyridge, Sailisbury Road, Houghton Down, Stockbridge SO20 6JR.