Steve Dixon is typical of the smaller-scale farmer who prefers to carry out his own baling when it suits him without relying on a contractor or anyone else. 
He farms 80-plus acres of grassland and last season he purchased a New Holland Roll Baler RB125 from Will Farr at our Hereford branch.
Steve has made good use of his new roll baler from day one, and it has impressed him on a number of levels, starting with its performance: "It's much faster than my older baler and the mechanical design is excellent," he says. 
Since purchasing the baler Steve has produced 1,600 bales; 1,000 for himself and a further 600 contracting. Working in very wet conditions baling silage, hay and straw. "The RB125 was easily achieving 55 bales plus to the hour and even in poor conditions it was achieving 20 bales to an acre in wet grass. It just ate it up!"
In terms of bale production, Steve has been impressed by both the shape and density of the round bales. "The RB125 makes a tremendous bale, even when it's not on full density. It packs it in very well and there is good cover right over the edge of the bale." Steve has also benefitted from the option to select 20 knives: "I feed a lot of animals by hand and the smaller forage size makes it easier to feed".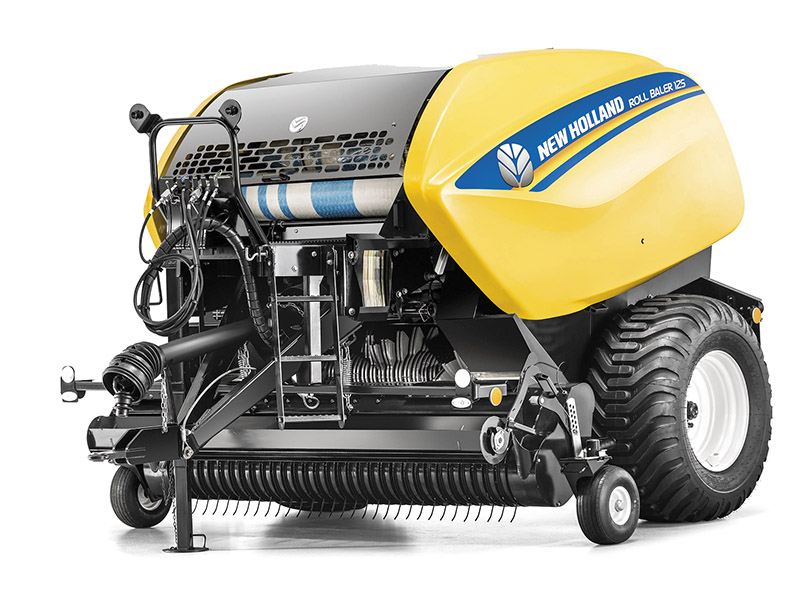 The RB125 has also proved simple to use. Steve admits that he is not computer savvy, but he has found the IntelliView IV monitor both user-friendly and easy to understand. The pick-up has also worked well for Steve, with no jamming like so many other balers. "It's a very capable baler which has kept me going right through the season on all conditions" says Steve. "Another benefit has been the auto lube system which keeps maintenance requirements very low."
Ask your Agriculture rep about New Holland round balers TODAY!