T H WHITE Energy Fire and Security recently undertook the successful installation of a comprehensive Ajax wireless security system at a Museum. The primary objective was to upgrade their existing system while ensuring the preservation of their historical buildings. Given the historical significance, importance, and value of the showcased items, it was crucial to ensure their safety and protection while allowing public access. This upgrade ensures that these valuable artefacts can be enjoyed by everyone for many years to come.
Ryan Long, Business Development Manager at T H WHITE EFS stated that "Ajax was identified fairly quickly in the discovery phase as the preferred supplier for this solution.  Their technology provided the best option due to the impressive wireless range that would ensure coverage for the whole site. It also provided a mobile and desktop user-friendly app that can easily be used to oversee the entire site security."
The bespoke nature of the design and the range of devices that Ajax was able to offer, encompassing detectors used i.e. camera PIRs and curtain PIRs, contacts, various data hubs, sounders and VHF bridges meant that this one system could cater for the complete needs of the customer in this historic building.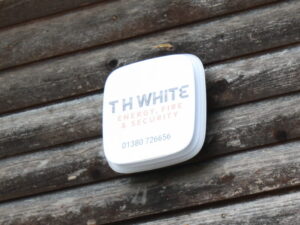 Just some of the benefits of a wireless Ajax system for your home or workplace:
Improved system reliability with high-performance radio connectivity
Extensive range of detection devices
User-friendly and easy to access with a mobile phone app
Can provide video confirmation of an intrusion within the app
Allows easy installation – most installations are completed the same day
If you are considering installing fire, Intruder, surveillance, or access systems, particularly in a sensitive environment, talk to our specialists today on 01380 726656 or visit our website.