A primary factor in encouraging the increasing uptake of electric vehicles is the creation of a comprehensive network of charging points. T H WHITE Energy, Fire & Security has recently completed 23 installations across southern counties, working with traffic technology partner Swarco.
Key sites in convenient locations at pubs, public car parks, hotels and restaurants from Cornwall to Cambridgeshire were identified by Swarco. At each site T H WHITE installed one or two Swarco 50kW Raption 50 Rapid Chargers within a 10-week window, undertaking all the electrical design, civil engineering work and electrical installation.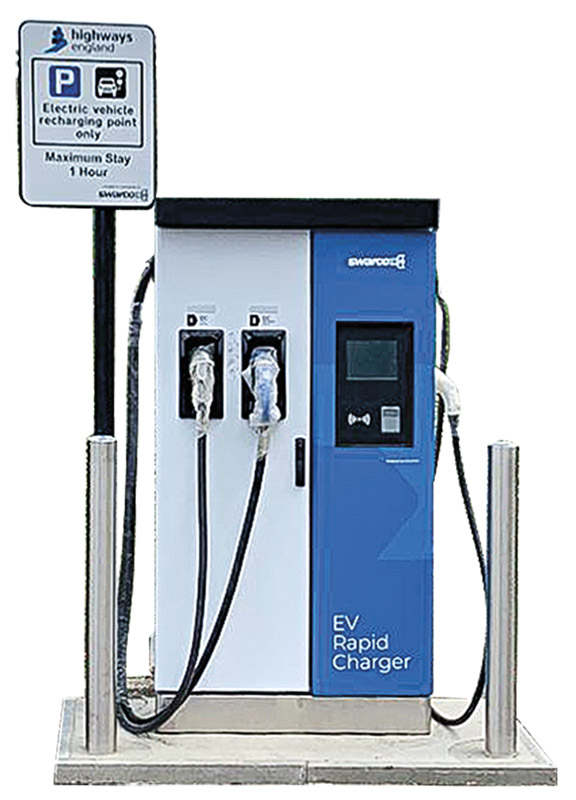 Each charging point is serviced by a brand new 100amp, 69kW three-phase supply provided by local network operators. There's more to installing an EV charge point than meets the eye and the task started with production of design drawings, excavation of all necessary trenches and installation of feeder pillars. The switch gear for each site was then supplied and installed with specialist EV RCD protection in compliance with 18th edition wiring regulations. 
The Swarco Evolt charger is one of the most advanced rapid chargers available, equipped with dual technology that allows simultaneous charging in DC and AC. Each charging point is protected by bollards and complies with all safety requirements, being earthed via mats or rods. Completing the installation is an adjacent signpost and sign.  
T H WHITE finalised the commissioning of each charging point by undertaking electrical testing and issuing an electrical installation certificate.
At two of the sites the charging points required new parking bays to be constructed and T H WHITE carried out the additional civil engineering required, delivering a truly complete installation package.
As the number of electric vehicles on the road grows there are immense opportunities for companies, local authorities, hospitality, retail, sporting and leisure operations to install charging points accepting card payments that will not only help staff and customers but will also generate revenue. We are OLEV approved to offer home and workplace grants where applicable (currently £350 inc VAT for each socket installed) to offset the initial investment.
If you are considering an EV charging point installation, call 01380 726656 to request your site survey, or visit www.efs.thwhite.co.uk and complete the 'Get in touch' enquiry form.