New and updated Case IH tractors made their début at LAMMA 2017, with the Luxxum and revised Maxxum lines refreshing the brand's offering in the key 100-150hp category.
The Luxxum 100, 110 and 120 have rated power outputs of 99, 107 and 117hp, provided by 3.4-litre four-cylinder engines from Case IH partner FPT Industrial. Stage IV emissions legislation is met via patented Hi-eSCR-only exhaust treatment. Respective diesel/DEF capacities are 150/14 litres.
Key new in-cab features for both ranges are the multi-controller joystick, which operates primary functions including gear and direction selection, linkage and spool valves. The multi-controller armrest on which it is mounted also incorporates a split throttle for max/min engine speed settings, plus controls for hydraulic and transmission tuning.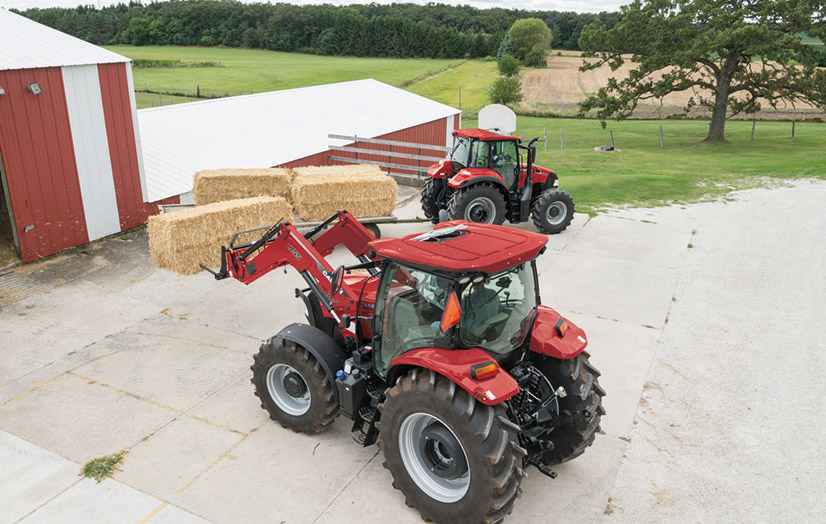 A new 32F/32R automatic powershift transmission with four powershift steps and eight ranges provides 40km/h travel at 1,730rpm and features adjustable powershuttle response and speed selection. An auto field mode shifts through the lower 16 speeds, while auto road mode moves the transmission progressively through the higher 16 speeds, each mode operated via a single press of an armrest button, or through each speed via buttons on the rear of the multi-controller joystick. In auto mode downhill safety is enhanced by the ability to override upshifts manually and prevent heavy trailed loads from jack-knifing. With 80mm of movement, front axle suspension damping is controlled via an accumulator and regenerative valve system.
Our Case IH specialists are ready to arrange a personal demonstration on your farm – just call your nearest Agricultural branch.