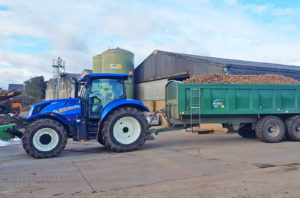 John Nightingale is a 4th generation farmer who has been used to seeing John Deere branded tractors operate on his 200 hectare, 'Fir Tree Farm' near Coventry, for much of his adult life. However, all that changed last year with the purchase of a New Holland T6.180 Dynamic Command – adding a powerful, highly-efficient 'blue power' cat among the pigeons!
Although not a regular T H WHITE customer, John has been well acquainted with our Warwick based New Holland sales specialist, Paul Simpson, for over 20 years. And in that time, the historical ties to the incumbent tractor supplier, loosened a little for John. "When it came to my previous two purchases, I was not overly impressed with the product or the dealership" he says. "I was looking for an answer and Paul very kindly provided one. He left me the New Holland T6 to try for a few days – and it didn't take long for myself and my team to make our feelings known!"
Citing a combination of reasons, from powerful performance across haulage and cultivation work, to outstanding levels of comfort within the cab, John says it was ultimately the fuel-efficiency that proved the deciding factor. "The New Holland brand is well known for being highly efficient, but thanks to the engine's electronic fuel delivery system and it's DC gearbox, the fuel economy of the T6.180 was something we just couldn't ignore," he explains.
John has had the machine for just over twelve months now, and is suitably impressed with the cost efficiencies made to date. Approximately 800 working hours were put in over the season, and having an auto-steer feature retro-fitted also contributed to the overall efficiency. "I had to call Paul last week to say thank you for saving me so much money on diesel this past year!" he smiles.
No doubt Paul will be introducing John to further discoveries within the New Holland range at some point in the near future.
Contact your T H WHITE Agriculture rep to book your New Holland demo today.