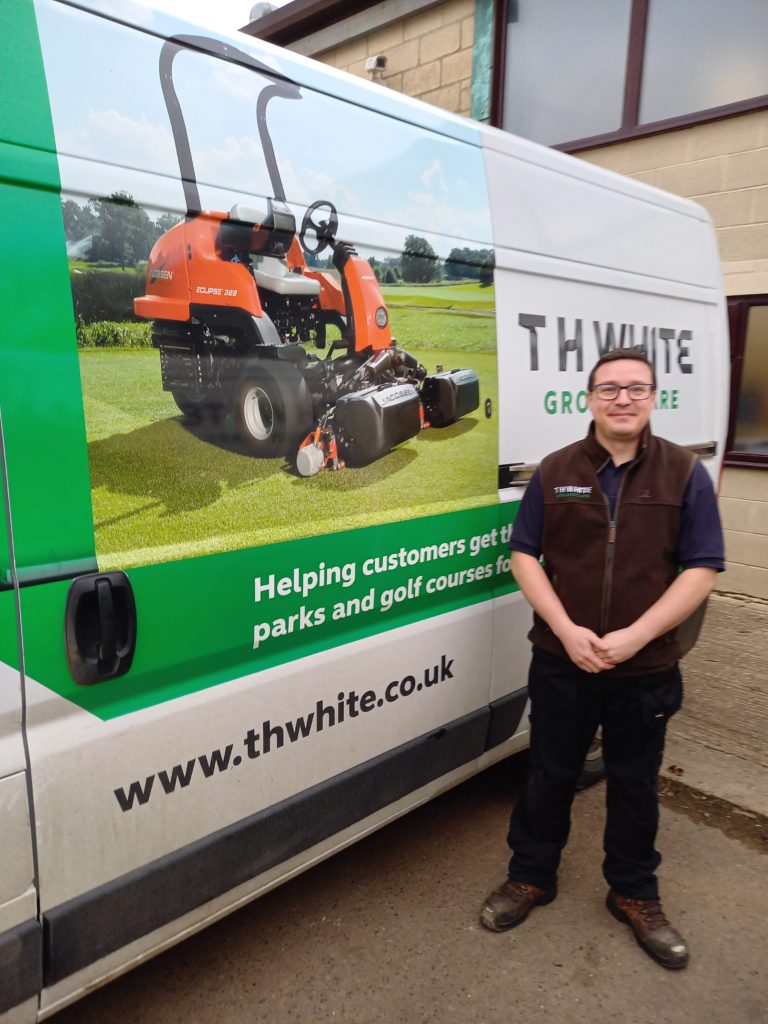 A lot of our Groundcare customers near our Knockdown branch will know Matthew Buffham, one of our Groundcare technicians. It has been 17 years since Matthew stepped through the doors of T H WHITE Groundcare to eagerly start his Land Based Engineering apprenticeship at Knockdown. His technician role includes regular servicing, preventative maintenance and diagnostic testing for fault-fixing.  Since then, he has worked on plenty of different machines from a whole raft of suppliers including Ransomes, Iseki, Wiedenmann, Ferris, Wessex and more.  One of his favourites being the Jacobsen Eclipse hybrid model because of its advanced ease of fuel to electric switching.
He has seen groundcare machinery adapt massively over the years with technical advancements leading to greater productivity, improvements in operator comfort and ease of use, plus all important environmental solutions creating a greener future for the industry.
Matthew's job as a technician doesn't just provide the opportunity of being at the forefront of the latest groundcare technology. It also takes him to some interesting locations, including a visit to Highgrove to assist Knockdown's neighbour, HRH The Prince of Wales.
Early on, Matthew knew that studying at a college or sixth form wasn't for him and felt lost with academic subjects at school not being his strong point.  Not one to be defeated, Matthew heard about T H WHITE apprenticeship schemes from a local friend in Tetbury and decided to apply for a position.
"The apprenticeship wasn't your typical study route.  It allowed us to learn in an incredibly hands-on way, the majority of the time, which suited me perfectly.  I then attended some block release weeks at Evesham College for the theoretical studying side of things. I could work and learn at the same time!"
"If you are like me and enjoy getting stuck into a task, then an apprenticeship at T H WHITE is for you. Learning as you work is definitely the way forward for many."
If you are like Matt and know that mainstream forms of study aren't for you, then an apprenticeship with our Groundcare division could most certainly be what you need. Find out more by viewing our dedicated Apprenticeship Online Brochure.