Focus on Manitou telehandlers for the building & construction sector
Manitou's MT construction telehandlers are material handling machines equipped with 4-wheel drive and steering designed to work in off-road conditions. Thanks to their high-performance load charts, they offer you a working envelope adapted to various construction sites and tasks – masonry, structure, framework, cladding, roofing, renovation, or tunnelling. With an MT telescopic handler, you will be able to load/unload, transport, distribute and handle all types of loads with precision and comfort. Allowing you to operate quickly and efficiently, your machine improves your productivity and provides you with a perfect safety of execution.
All MT models have:
Great versatility. Accessories can be changed in minutes – with more than 100 attachments to choose from including recovery buckets, jib cranes, floating fork aprons, fork spreaders, big-bag handlers, sweepers and more
Perfect maneuverability and three steering modes: 2 or 4 wheel steering, crab mode
All-terrain design allowing operation on all types of sites, including on rough or cramped terrain
Impact-resistant cabs with 360-degree visibility
Enhanced cab and easy handling thanks to a clear and modular dashboard, intuitive controls and Manitou's patented joystick providing flexibility and precision of movement.
Optimum safety thanks to high-performance stabilizers, multiple braking systems and a particularly robust design
Easy and accessible maintenance points
Here's a look at two top picks:
THE COMPACT FAVOURITE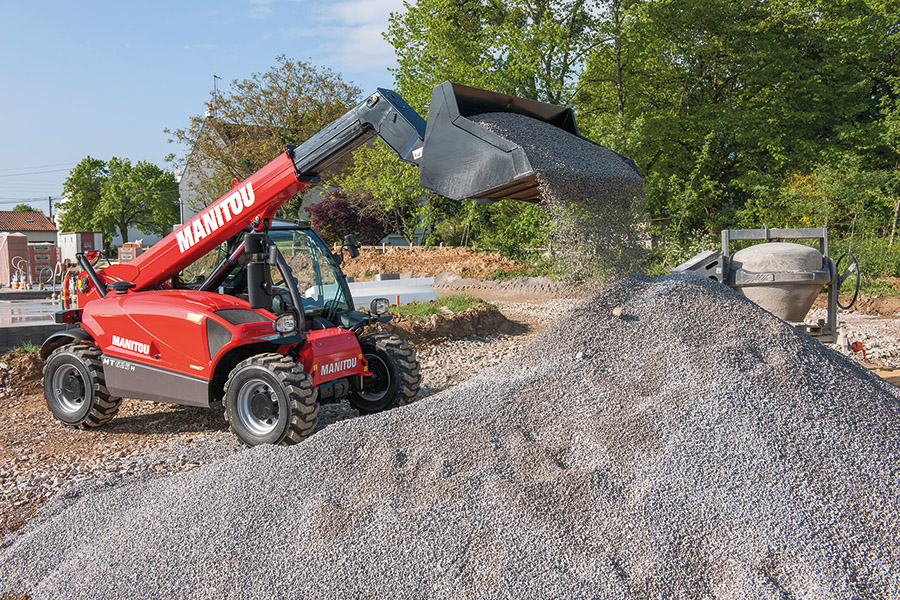 The Manitou MT625 is a utility all-purpose machine from Manitou's Construction Telehandler range with 5.85m lift and 2,500kg payload. Its compact dimensions enable you to carry out all manner of handling work: placing pallets on the first floor of a building, bulk loading or unloading from storage area or on site, work in underground car parks, semi constructed buildings or low headroom building areas on congested sites.
Designed with construction and renovation in mind, the MT 625 has exceptional characteristics with a width and height less than 2m (1.81 x 1.92m) and 33cm ground clearance, the MT 625 moves easily in restricted spaces which would typically be inaccessible to other handling equipment. Extreme manoeuvrability comes from its 4-wheel drive and all-wheel steering with single lever steering mode. The hydrostatic transmission provides flexible and progressive control for positioning a load with more accuracy and safety. This system adapts the performance of your machine to the operator's requirements using the inching function, and you can adjust the speed of travel of the truck independently of the engine speed. You can also adapt your speed to working conditions and optimise fuel consumption – a +/- switch on the dashboard allows you to select either on-site speed (7 kph) or road speed (25 kph).
THE MIGHTY MUSCLE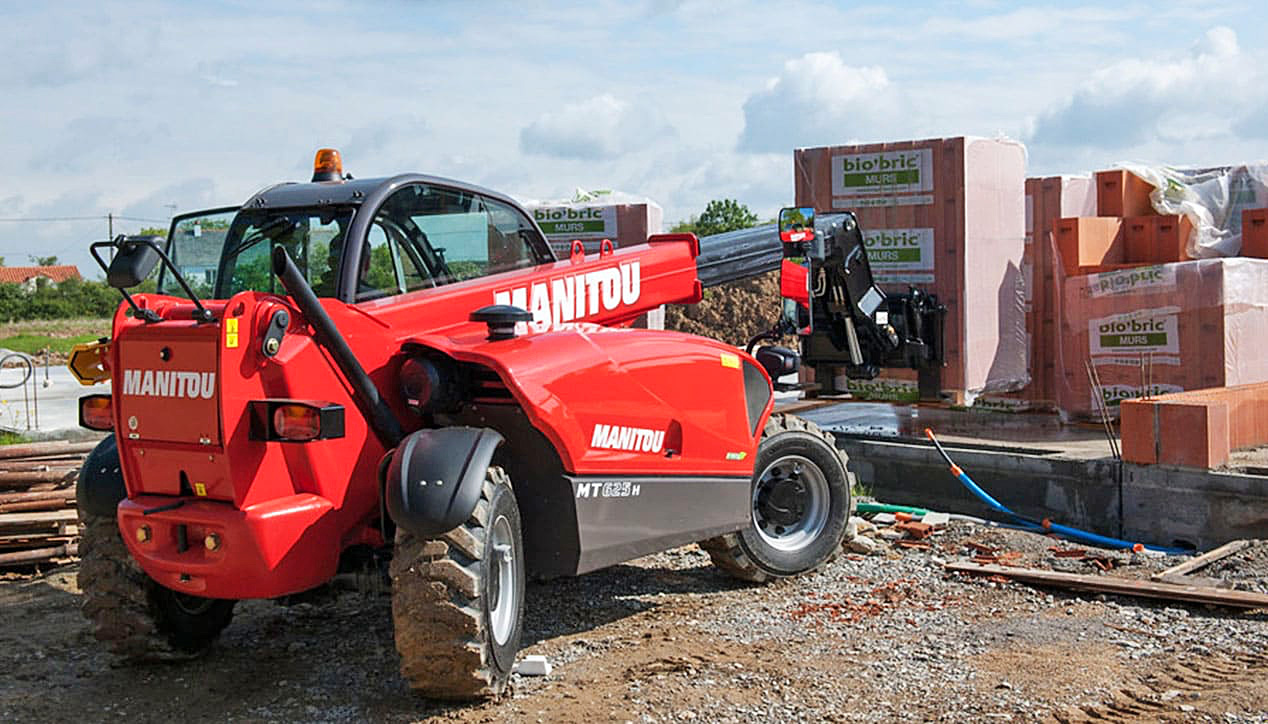 With the muscle to lift heavy loads to high places, the Manitou MT1840 telehandler strikes the perfect balance between power and precision.  Specially designed for high bay/high rise work sites this heavy performer is ideal for an array of construction handling from concrete mixing to buckets and hook, moving bulk materials to masonry support.
Offering an impressive lifting capacity of 4 tons up to a height of 59ft, it also features excellent lateral and front stability, particularly when the outriggers are deployed. Equally at home on uneven terrain, it has a generous 42cm ground clearance and a tight turning circle meaning that manoeuvrability is never a problem. Robust and designed to last, this handler is equipped with a low frame steel door and quality components to ensure longevity. For ease of transportation, multiple slinging points are provided. It also boasts outstanding safety and its new easy step access makes hopping on and off a breeze.  A true multi-tasker, it can be adapted to meet all your needs simply by changing the boom attachment.
For full details of Manitou telehandler and construction ranges, plus some great finance deals, contact our Construction specialist Steve Clucas-Tomlinson on 07860 593339.