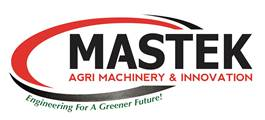 Mastek is the leading provider of high-quality slurry solutions (reels, dribble bars, pumps).  Established in Co. Cavan, Ireland, in 2000, the company began manufacturing forklift masts for the material handling industry and moved into specialised agricultural machinery in 2009.
The slurry equipment product range encompasses umbilical and drag horse systems, tankers and applicators, separators and smartspread technology.  Products are 100% galvanized products with a focus on the latest technical innovation to ensure high quality and durability.
We stock their Professional Universal Dribble Bar/Band Spreader, available in 6.5m, 7m, and 8m widths with the Mastek Supercut macerator with 28 outlets. Lightweight and durable, this bar has a hydraulic folding mechanism and fits any leading brand of tanker. It can also be retro-fitted with no welding. A hydraulic isolation block, LED lights, anti drip and spring loaded hinge arms are all optional extras.
We have plenty of stock available and more arriving through the season. These are moving fast, so reserve yours today!
For more details on contact our Slurry Specialist Brandon Willcox on 07850 301575.