If you are in the construction business, looking for a reliable and efficient telehandler that can meet your lifting and material handling needs, look no further than the Manitou MT1335.
As an official partner of Manitou for over 30 years, we understand the importance of offering top tier equipment backed by exceptional service that keeps your projects running smoothly.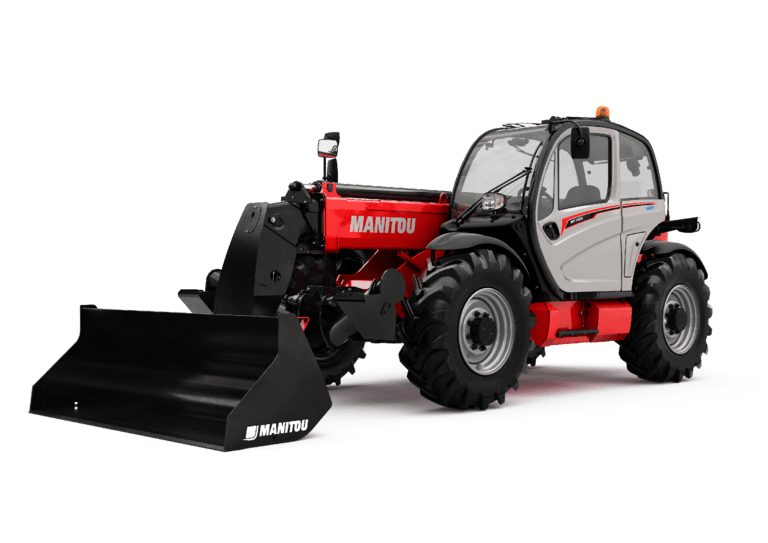 Key Specifications
The Manitou MT1335 is purpose-built for work sites that demand lifting performance for tasks spanning two to three stories. Here are some key features that make it an ideal choice:
– Impressive Lifting Capacity – The MT1335 boasts a lifting capacity of 3.5 tons and can reach heights of up to 13 meters. This means you can confidently handle heavy loads and work efficiently at elevated positions.
– Maneuverability – Equipped with sturdy but compact outriggers, this Manitou telehandler excels in confined spaces, allowing you to navigate even the tightest work sites with ease.
– Operator Comfort – The spacious driver's cab is designed for operator comfort and productivity. It features JSM controls, an ergonomic and intuitive instrument panel and a wider door for easy access.
– Powerful Performance – The MT1335 is driven by a robust 100 hp engine with 4-wheel drive, ensuring it can tackle any type of terrain with efficiency. It's a machine that won't let you down, regardless of the challenges your job site presents.
– Easy Maintenance – Maintenance is made simple with the wide opening engine compartment and a diagnostics screen located on the instrument panel. Downtime is minimized and your bottom line remains strong.
Maximum Versatility with Manitou Attachments
The Manitou MT1335 telehandler is a versatile workhorse. You can enhance its capabilities even further with a wide range of Manitou attachments, allowing you to adapt to various tasks.
Find out more about the Manitou attachments range here. 
Special Autumn Pricing
We're currently offering special Autumn pricing on select Manitou models, including the MT1335. This is your chance to upgrade your equipment while saving on costs. Don't miss out on this opportunity! Take a look here
The Manitou MT1335 telehandler combines comfort with performance, making it an ideal choice for medium height work site operations. Contact our sales team now to learn more about this fantastic machine and our special Autumn pricing offer. Elevate your construction operations with Manitou and T H WHITE Construction!
Charlie Rabbitts – 07775 684 876 (Wiltshire, Gloucestershire, Somerset, BANES)
Mark Payne – 07860 593 339 (Gloucestershire, Wiltshire, Somerset)
James Bird – 07970 805 985 (Midlands, Worcestershire, Herefordshire)
Kevin Condon – 07966 133 538 (Shropshire, Warwickshire, Staffordshire)