Manitou's new pivot-steer telehandler, the MLA-T, combines bags of sheer tear-out force with exceptional levels of comfort and durability, and is available now from T H WHITE Agriculture and Construction.
Designed in-house from the ground-up, the MLA-T features a tighter turning circle than competing machines and, unlike many pivot-steer handlers, it shuns standard torque converter transmission for Manitou's own hydrostatic M-Vario Plus transmission, which is more commonly found on higher-spec, rigid-frame machines.
Powered by a Deutz 4.1-litre, 143hp diesel engine, the MLA-T has plenty of 'grunt' for all the construction and agricultural tasks that it will be required to perform. On the road it can be driven at up to 40kph, but a number of advanced technologies are built-in to deliver maximum power at slow speeds with the engine driving two separate axial piston motors, one of which is automatically disengaged above 20kph to reduce oil displacement, assist cooling and reduce fuel consumption.
An eco-mode can also result in a fuel cost saving of around £440 over 1,000 hours when full power isn't needed.
Built for hard work in harsh environments, the MLA-T features a heavy chassis with widely spaced top and bottom pins to mitigate stress on the pivot joint and the prop shaft runs inside the chassis for maximum protection.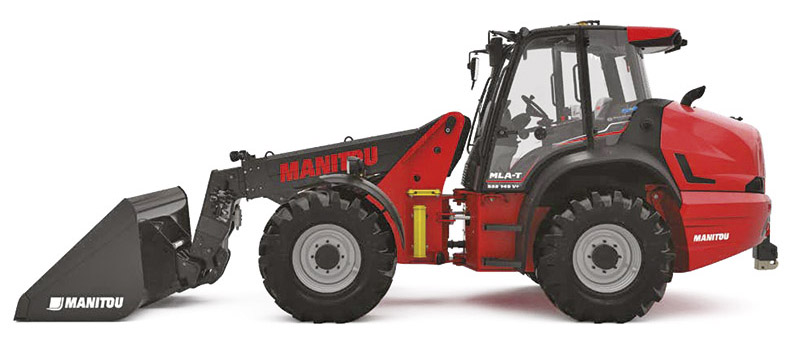 Matching equivalent rigid machines, the MLA-T can lift 3.3t at full articulation and up to 5t for a straight tipping load, while optional 'intelligent' hydraulics offer three most useful automated functions – Quick Lift which combines raising/lowering with extension/retraction; Bucket Shaker saves the operator from making repetitive movements; and Return to Load to automatically return to a pre-set position.
Completing the package is a comfortable working environment and brand new cab design with easy control via a JSM joystick and a digital display dash. Maintenance is easy thanks to a central greasing block.
We think you'll love the MLT-A, particularly for livestock farming and construction applications, but you don't need to take our word for it. If you would like to see and try the machine for yourself, please contact your T H WHITE Agriculture or Construction representative.