Investing in equipment to separate slurry into liquid fractions has not only made muck handling easier for D and R Johnson & Son, but has also improved the quality of the end product, making it more valuable as a fertiliser. 
Tom Johnson, who runs a 140-cow dairy herd at Middle Farm near Salisbury. with his wife and parents, says savings have been impressive.
He says: "Fertiliser costs have come down by about £3,000/year, equating to about £60-100/hectare since we have been applying separated slurry.
"I work closely with my agronomist and soil test regularly to ensure we are putting the correct rates on, but it is a lot more efficient than simply hauling it out with a muck spreader."
Cattle are housed for four months of the year in two main cubicle houses, bedded on sawdust and with all feed passages under cover.
They receive a total mixed ration of grass, maize and whole crop, as well as being parlour-fed and the 8,000 to 9,000 litre yield for Mueller is 60 per cent forage based.
In 2018. Mr  Johnson consulted local dealer T H WHITE about upd­ating his slurry handling system. 
Mr Johnson says: "We had an old concrete ramp to push muck up into the spreader and we scraped into a reception pit leading to the lagoon, but with Nitrate Vulnerable Zone (NVZ) regulations coming into force to restrict spreading, we soon found that we were lacking storage capacity."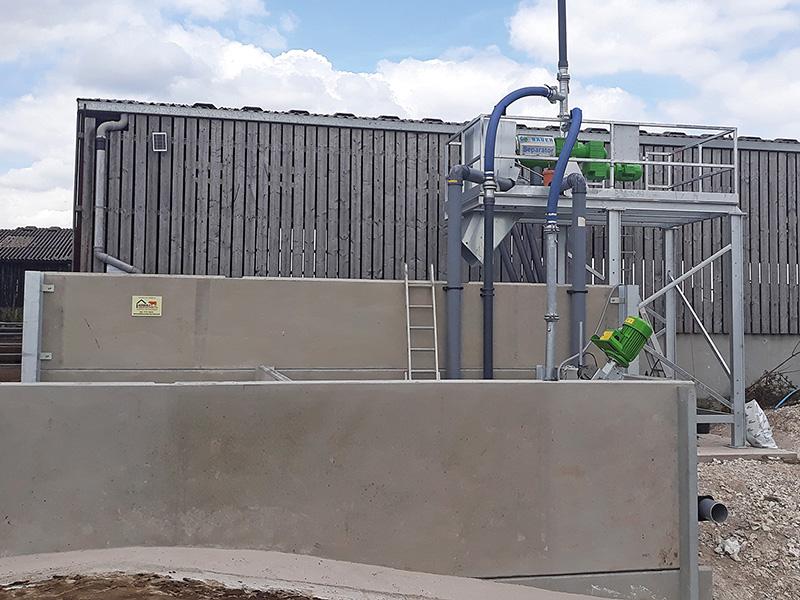 T H WHITE's slurry specialist Bob Gallop specified a Bauer separator to remove solids from the slurry and make more of the lagoon's capacity. The muck ramp was also removed and, instead, muck scraped over slats into a reception pit before being pumped to the gantry-mounted separator. Separated liquids are then pumped into the existing lagoon and solids pushed into a clamp at the side of the lagoon; parlour washings are treated separately.
Removing solids from the slurry also means it can be applied more frequently with less risk of contaminating the sward.
Slurry is spread from the 1.5 million litre capacity lagoon on the 13.5ha of farmland via the farm's tanker.
In the next growing season, the plan is to improve the nitrogen uptake further by applying the slurry to the pastures using a Storth 7.5m dribble bar, putting it closer to the roots of the sward.
Mr Johnson says: "We have used a splash plate in the past, but our location is very windy and we want to improve the precision of the operation.
"Because we used to struggle for capacity, the pressure was to get the lagoon empty as soon as the NVZ window opened, but now applications can be more targeted after first cut silage and on the maize ground."
The project was grant-aided by the Rural Development Programme for England Leader Funding Programme (now closed for new applications due to the UK leaving the EU) which covered 40 per cent of the investment. Plans for the scheme were drawn up by T H WHITE's Bob Gallop.
Speed
Mr Johnson says: "Getting grant funding was a big help and it is not an especially complex process. We filled out the forms and submitted the plans and it came together quite quickly."
T H WHITE offers back-up for the system and Mr Johnson says it is low maintenance, with only one grease point.
Checking the levels and keeping an eye out for foreign objects, which tend to be filtered out by the slats, are the other routine tasks.
Mr Johnson says: "The separator has also taken pressure off the other machinery as there is no need to push muck up a ramp. The system also fitted into our existing layout, so there was no requirement for building changes or planning permission."
One benefit of the development is that the newfound lagoon capacity allows for potential expansion, an option Mr Johnson is considering with space available in the cubicles and parlour for an extra 20-30 cows.
Tower
A further update may include the installation of a tower in the future, as the existing lagoon is not covered and rainfall can impact on capacity.
With grateful thanks to Farmers Guardian Insight, who have allowed us to post this article which first appeared in FGI December 2020 issue.
If you would like to discuss how you can streamline you slurry handling, take to T H WHITE's specialist Bob Gallop on 07831 883734.