The Aurora ELiTE lithium mower is cutting a new path in clean, green, sustainable turf maintenance.
Whilst this is their first lithium commercial mower, as the worlds first manufacturer of electrified mowers; Ransomes has decades of experience with electric products. As a result, the zero-emissions and fuel, road-worthy, quiet turf maintenance solution is meticulously designed to meet the demands of professional operators on their hardest working days.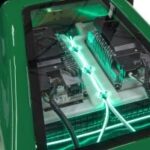 ELITE LITHIUM TECHNOLOGY POWERED BY SAMSUNG
Powered by proven ELiTE Lithium Samsung SDI batteries and based on the much-loved HR380 chassis, the innovative Ransomes Aurora ELiTE ensures efficiency and longevity. The onboard, overnight charging feature means the mower is always ready for action.
ZERO EMISSIONS AND ZERO FUEL
When the action comes, the electric direct drive motors for the cutting system and electric-driven transaxle with auto-limited slip differential combine to deliver exceptional performance and manoeuvrability. The electric-powered hydraulic lift and steering systems elevate the industry standard with effortless control and outstanding productivity.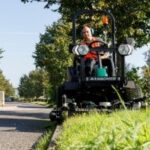 UP TO 80% LOWER RUNNING COSTS, 80% LESS HYDRAULICS
With a remarkable transport/mow speed of up to 25 km/hr (15 mph), tasks are completed swiftly and seamlessly. The cutting-edge mowing deck boasts a substantial 1.52 m (60″) cut width, coupled with an adjustable cut height ranging from 25 to 115 mm (1 – 4.5″). Engineered with the utmost attention to longevity, the deck construction features a robust bull nose profile forged from high-strength steel, complete with solid bumper rails and replaceable nose wear plates.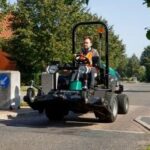 ROAD SAFE WITH REDUCED NOISE
The bolted assembly of impact and serviceable parts ensures durability and ease of maintenance. With a lightweight, high-strength steel frame, the Aurora ELiTE is built to withstand the rigours of professional use. Numerous optional accessories can be added to the machine, including a road light kit, storage racks, and mulching deck baffles to tailor it to your needs.
Talk to your T H WHITE Groundcare rep today here to find out more about this clean, green solution to grounds management.