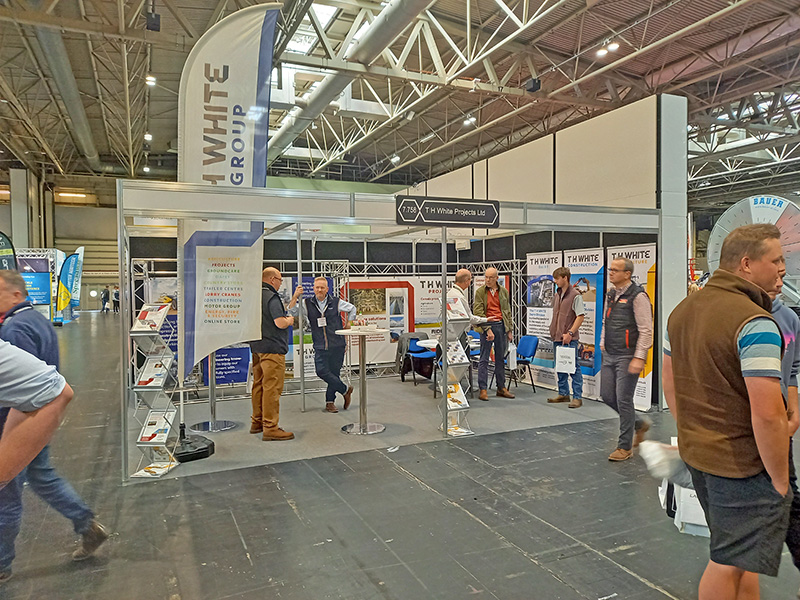 The third all-indoor LAMMA show took place at the NEC in Birmingham on 4/5 May 2022. This was the 40th anniversary event and it has been heralded a 'Great advert for the industry' by exhibitors and visitors alike.
LAMMA is the UK's largest agricultural event showcasing farm machinery, technology and numerous industry innovations and once again was the place to visit, albeit in May rather than January due to covid cancellations.
As usual, the public support for the exhibition over the two days was commendable with thousands of visitors coming through the gates each day to experience the atmosphere of the event and meet some of the 600+ exhibitors who had spent many days beforehand constructing and ensuring their stands looked professional and ready for business.
On the T H WHITE Projects stand – no. 758 in Hall 7 – members of the THWP team were ready to meet customers on a spacious and well equipped 6 x 5m shell stand with two open sides to the aisles, allowing easy access for visitors to be warmly welcomed to discuss their respective projects.  This year the Projects team was joined on the adjacent Dealer Zone – new for 2022 – by colleagues from other divisions of the T H WHITE Group representing Agriculture, Groundcare, Dairy and Construction.
Again this year LAMMA was extremely well organised, being arranged across the NEC's dozen expansive halls, each containing a variety of mechanical plant, equipment and technology, while the indoor environment was comfortable to walk around and take in the huge range of exhibits.  The doors opened at 08.30 and the crowds flowed in accompanied by the aroma of bacon from the outside catering!  T H WHITE Projects can report a very busy two days, welcoming clients, suppliers and contractors to the stand, discussing their on-site operations. Enquiries ranged from servicing of equipment to a new drier, cleaner and even the odd grain store opportunity. It was particularly encouraging to see so many overseas visitors at the event.
After an 18 month absence due to the covid pandemic there were some interesting debates and discussions between customers and suppliers of the current market, global situation and changes since Brexit. Many went on to discuss how things were affecting their respective businesses, investment opportunities, funding and the future of agriculture itself in the UK.
As the last visitors left the exhibition on the Thursday afternoon, the knowledge that we had enjoyed an excellent show which was well worth attending made up for tired legs and dry throats from two days on our feet with non-stop dialogue, kept going by an array of T H WHITE Projects complimentary snacks and beverages.
Thanks are due to all of those involved in the planning and implementation of the T H WHITE LAMMA 2022 stand. Next year LAMMA returns to its usual slot in the agricultural calendar and will again be at the NEC on 10/11 January 2023 – a date for the diaries!
T H WHITE Projects specialises in cereal processing and storage solutions of all sizes, from small farm installations to large commercial/industrial bulk facilities, taking each project from conception to completion. If you have a scheme you would like to talk about, please do contact us on 01380 723040 or email projects@thwhite.co.uk